Latest WoW hotfixes address Tomb of Sargeras encounters and Ahune rewards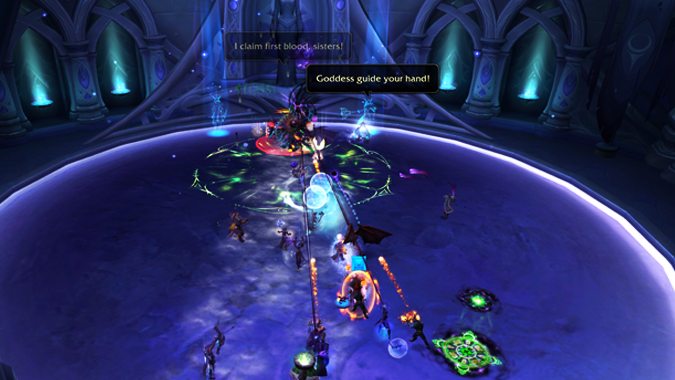 A few more hotfixes have come in for World of Warcraft, this time targeting several encounters in the Tomb of Sargeras raid as well as making small changes in a few other areas of the game. Of particular note are the fixes to the Sisters of the Moon fight, which had a chance to bug out and prevent bonus rolls or personal loot from being rewarded correctly when the inactive sisters refused to de-spawn, keeping the fight going indefinitely.
The Midsummer Fire Festival received a slight reward change as well, which should makes illusion collectors happy. The new Deathfrost illusion was being awarded from the Ice Chest at the end of the Lord Ahune fight, forcing players to compete with the rest of the group for a chance at the item. It has been changed to drop from the Satchel of Chilled Goods instead, which is the personal reward all level 100+ players receive for completing the first fight of the day. However, it will not drop from the Knapsack of Chilled Goods, the reward for any level 60-99 players.
Read on for the full list of changes:
Dungeons and Raids
Completing your first Legion Heroic dungeon each day will now award you with 5 Writhing Essences, if you're eligible.
Tomb of Sargeras

Sisters of the Moon

Captain Yathae Moonstrike will no longer target pets with rapid shot. She feels it is beneath her station.
Multiple Sisters should no longer become active at the same time.
All the sisters should no longer become inactive at the same time.

The Desolate Host

Players should no longer be kept in combat for up to a minute after the end of this encounter.

Kil'jaeden

Kil'jaeden will no longer change facing while casting Bursting Dreadflame.
Shaman totems will no longer fail to hit when their caster has Illidan's Sightless Gaze during Kil'jaeden's second intermission.
Items
Illusion: Deathfrost is now awarded from the Satchel of Chilled Goods instead of the Ice Chest. It is not awarded from the Knapsack of Chilled Goods.
Addressed an issue where multiple versions of the Lamp of Al'Abas increased pickpocketing income.
Corrected an issue where upgrading Siege of Orgrimmar Heirlooms changed their stat values, and made them appear to be usable at level 1.