Diablo 3 Necromancers are just too serious for dancing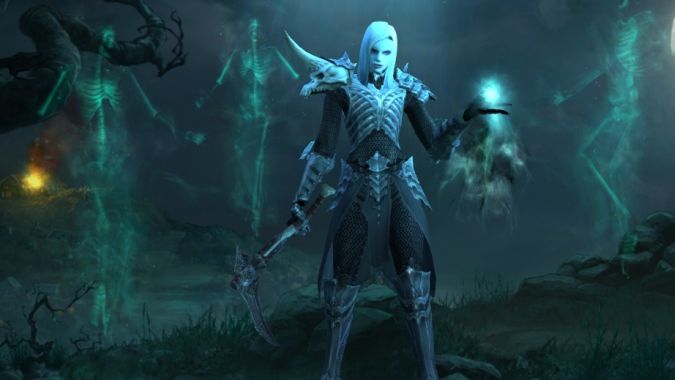 The Necromancer was released in Diablo 3 this week and lucky players who have purchased it have already figured out that they just don't dance. When the dance emote is used, the Necromancer will offer several dialogue options but, most importantly, will refuse to participate. Nevalistis came into the thread asking about this shortcoming, citing the somber focus of the patch and the Necromancer's tendency to suppress emotions as to why the characters are missing the dance emote.
As part of that focus, they could not imagine the Necromancers would ever be caught doing anything celebratory. Dances were indeed considered and discussed within the team, but it was hard to fit the nature of the Necromancer. They decided that, due to Necromancers' history, it's just out of character for them to dance and the only appropriate response in game would be to refuse.
As much as it's a cheeky answer and probably lore-accurate, it also feels a bit of a cop-out. You can't tell me that Valla "Feel my wrath!" Demon Hunter would do anything other than straight up shoot the person who asks her to dance, as much as I dream of her running away with Lyndon the Scoundrel. To add insult to injury, Xul, the canonical Necromancer, is shown dancing in Heroes of the Storm. The Necromancer is also only available through a paid content pack, so cutting features that other characters have for the sake of lore sort of defeats the purpose of paying for additional content.
There are many fun things like pets and cosmetic items added to the game for the sake of fun gameplay rather than lore and /dance is one of them. It's highly unlikely the nephalem would have Mercy or Illidan wings and yet here we are. There's really no reason the other classes would dance either, after all we're on a campaign to rid the world of demons. Dancing doesn't really fit much in the entire game as far as lore is concerned. It's a silly thing meant for players and it's a shame the Necromancer is left out.