Patch 7.3 takes us to Mac'Aree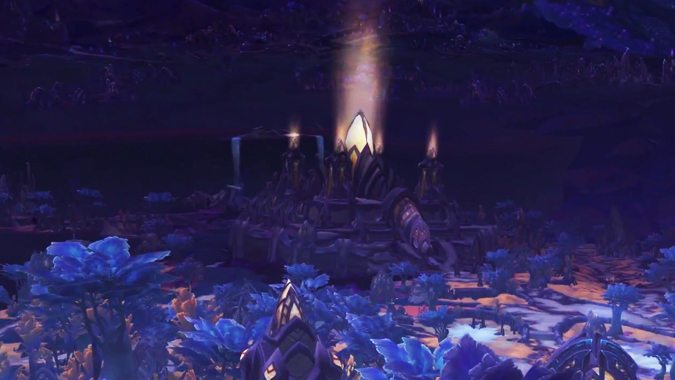 Beware: there are spoilers in this post!
Argus content is progressing on the PTR and in the latest patch 7.3 build we finally get to visit Mac'Aree. Before now, the city had only been mentioned in WoW by an NPC in the Draenei starting area, who lamented how long it had been since the Draenei left. Wowhead posted a video preview of the zone and the new quest content, progressing as far as possible before server issues cut the questline short.
Mac'Aree was Velen's home and what appears to be a capitol of sorts on Argus. The triumvirate of Velen, Archimonde, and Kil'jaeden lived here, creating a city of prosperity and progress. Velen calls it the "pinnacle of Eredar civilization" and a "beacon of progress" that ultimately drew the Burning Legion to their door. When Velen realized the evil of Sargeras, he planned to flee and the Naaru L'ura aided in the Draenei's escape. Unfortunately the spirits of the fallen have been caught in the echoes of the battle ever since, stuck living the horrors of that day.
Velen is visibly affected by being back in Mac'Aree and you replay his final escape in order to put the spirits to rest. There's also a cinematic of the escape, though it's not in the game yet. The rest of the questline deals with collecting the other two parts of the Crown of the Triumvirate in order to take down the Burning Legion, starting with the Sigil of Awakening that was held by Archimonde. The questline was cut short, but it will eventually take us into the new dungeon and then the raid on Argus.
If you're curious about Mac'Aree, here's some trivia:
Mac'Aree was the most sacred of the Eredar cities on Argus, called the "Jewel of Argus."
They city was described as having purple hills, walkways lined with precious materials, and rivers that glittered in darkness.
The character Jessera of Mac'Aree on Bloodmyst Isle hailed from Mac'Aree and spoke of its wonders and how long it had been since the Draenei left.
The archaeology item The Last Relic of Argus references Mac'Aree with the flavor text, "This simple crystal was taken from Argus when Velen fled. The inscription on the bottom reads, 'I long for Mac'Aree'."
Mac'Aree and the character Jessera of Mac'Aree are most likely a reference to WoW designer Jesse McCree (and likely Scarlet Lord Jesseriah McCree, Jessup McCree, and Overwatch's Jesse McCree as well).