Overwatch's McCree and the Deadlock Gang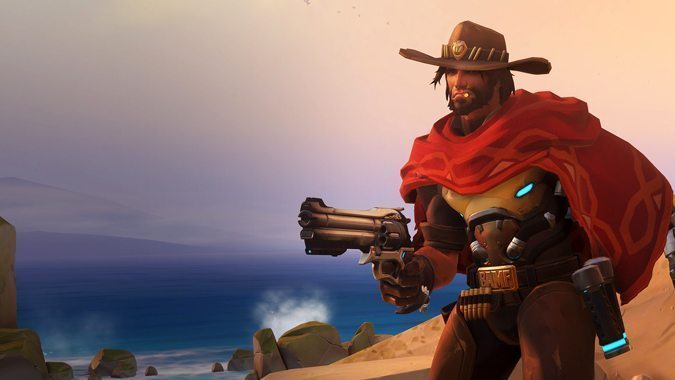 The Overwatch team was extraordinarily clever during the height of their popularity after the Omnic Crisis was brought to an end. Using their resources and connections, they dismantled plenty of underground criminal organizations. Part of this was simply being experts in their fields — and a lot of it was due to using the knowledge they had, and their reputation, to pluck former members of these criminal organizations from their lives of crime and instead pull them into Overwatch.
In the case of Genji, Mercy saved him from certain death at the hands of his brother Hanzo after the Shimada Clan turned the two against one another. For that, Genji felt the organization deserved to be dismantled. Overwatch rebuilt his body in exchange for information about the Shimada clan that they needed — information he gladly provided.
In other parts of the world, Overwatch continued using the same tactics to get what they needed.
The Deadlock Gang
One of the most notorious gangs of the American Southwest was the Deadlock Gang. They trafficked in illicit weapons and military hardware, much like the Shimada Clan did. And they had just as much success doing so, although their reach may not have been quite as widespread. One of the members of the Deadlock Gang was Jesse McCree. He wasn't the leader or the son of the leader, but just happened to be a highly effective member of the gang.
Overwatch tracked down the Deadlock Gang and through a sting operation, managed to capture McCree and his cronies. But instead of turning McCree over to the authorities, they offered him a choice. He could spend the rest of his days rotting away in a maximum security prison…or he could join Blackwatch and work for Overwatch.
Although initially cynical about this "second chance," over time McCree realized that through Overwatch — through Blackwatch — he could possibly start to make amends for his past sins. And Blackwatch, a special covert ops division of Overwatch, let him do exactly that without any of the red tape or bureaucracy that might have hindered any efforts in Overwatch itself.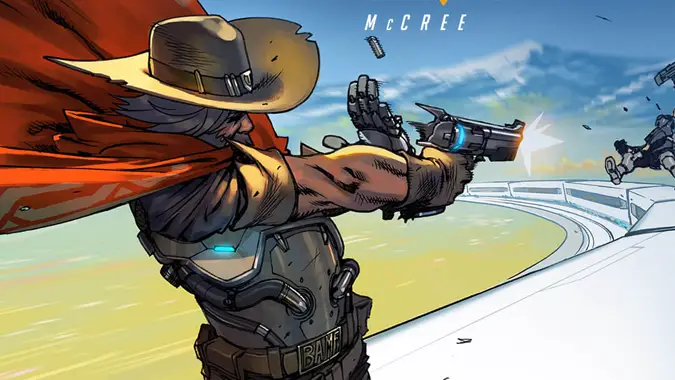 McCree leaves Overwatch
That was all well and good, except that Blackwatch's covert operations weren't going to remain covert forever. As Overwatch's popularity waned, there were those in Blackwatch who sought to bring down the organization and instead turn it to their own ends. McCree watched the infighting — including tension between Gabriel Reyes and Jack Morrison — and ultimately decided he wanted no part in it.
Nobody managed to stop him when he left. Maybe they were too busy dealing with the fighting to notice he'd gone. And nobody knew where he'd gone — for all intents and purposes, McCree simply disappeared. Years later, he resurfaced as an experienced, proficient gunslinger for hire, his talent and skill making him a popular choice for parties great and small.
But McCree didn't have any interest in illicit activities. He only took assignments for causes he believed in, for justice he felt needed to be served. McCree may have left Overwatch, but the lessons he took from the organization and his desire to actually make amends for the wrongdoing he'd done in his lifetime seemed to have carried forward.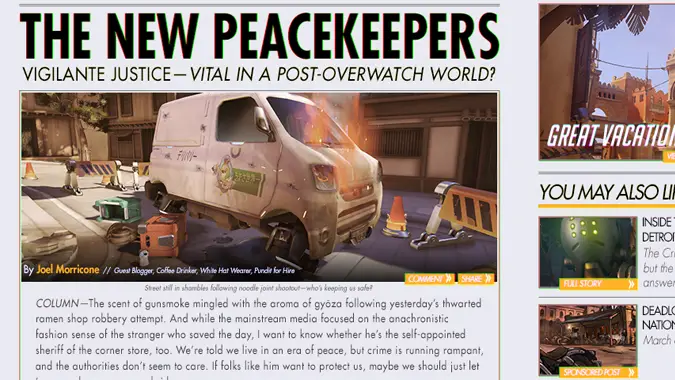 MeCree as a vigilante
McCree's been described as a vigilante — a civilian taking the law into their own hands without any legal authority. And there's been plenty of discussion on whether or not this is a good or bad thing by the press. It's been noted that crime is on the rise all over the world, now that Overwatch is gone — and McCree is hardly the only vigilante out there trying to do something about it.
In fact, according to the Recall short, any activity by former Overwatch members is now considered illegal, which means that every single hero that was once a member of the organization could be considered a vigilante if the decided to step in and try to help out. It means that Tracer's actions in the Alive short were those of a vigilante. Just because Winston decided to push that recall button doesn't mean everything Overwatch does now is suddenly legal.
Is it for the right causes? Absolutely, Winston has the best interests of the world at heart. He wants to see a return to that peace and prosperity that followed the end of the Omnic Crisis. He wants to put an end to that second Omnic Crisis before it spirals out of control. But it doesn't mean that what Winston is doing is legal in the eyes of the rest of the world.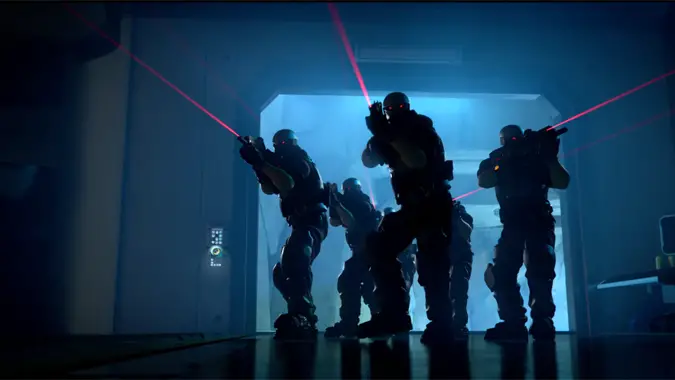 Overwatch's fall
And this may actually be where part of Overwatch's downfall came from — from their internal covert ops unit. Blackwatch did well enough fighting crime, Overwatch did well enough doing the same, but the fact that they recruited former criminals into their ranks wasn't something that would've sat well with public opinion. If the rest of the world got wind of what Overwatch, what Blackwatch was doing, it's not exactly the sort of thing they'd embrace with open arms.
Overwatch was accused of corruption and mismanagement — which could be seen as truthful, given that they'd willingly recruited criminals instead of turning them over to the authorities. They were accused of weapons proliferation — well that's also a given, many of Overwatch's members were weapons experts, and they were constantly working on new technology. And they were accused of human rights abuses, though the details of those abuses haven't been clearly defined. But coercing someone like Genji into working for your organization while their life hangs by a thread couldn't exactly be seen as humane.
All of these matters were internal, however. Overwatch's records weren't public knowledge, nor were its internal workings. My best guess — and this is speculation, mind you — is that the only way the world would get access to that information is if someone told them. Someone like say…a criminal organization limping on its last legs because one of its own members turned tail and joined Overwatch.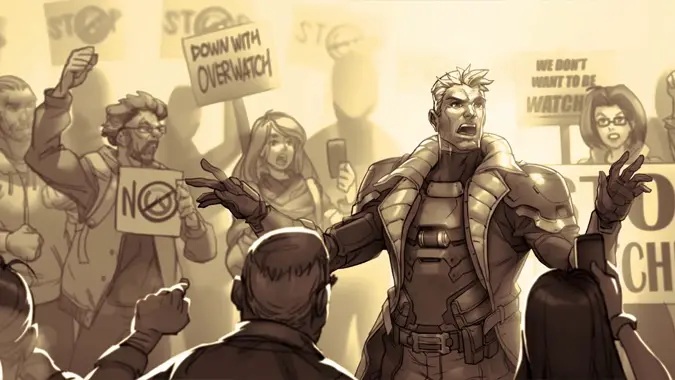 Duplicity
We know that Talon's out for Overwatch. They never managed to successfully take the organization down. The same applies to the Shimada Clan — they might have been weakened, but they're still around and operating out of Hanamura. The Deadlock Gang appears to be similarly still active, judging by the Route 66 map. All of these organizations have one thing in common: they'd like it very much if Overwatch were out of the picture for good.
What's the best way to send an organization to its knees? Let the public tear it apart. If any of them fed that information to the press — that Overwatch was recruiting known criminals — that would be enough to get the ball rolling. And unfortunately for Overwatch, they wouldn't really be able to truthfully argue to the contrary.
Was that the impetus for Overwatch's initial downfall? We don't really know. But someone, somewhere seems to be clearly intent on finishing what the public eye started — and taking down every former member of Overwatch before the organization has a chance to even try to pull back together. We know that Reaper is heavily involved with Talon — in the McCree comic Train Hopper, McCree notices that the people pulling off the train heist are using the Blackwatch playbook. Reyes' playbook. Now apparently Reaper's playbook as well.
We don't quite know where the Overwatch story is going. It's a story of hope for humanity, yes — but it's also a story of the steps heroes have to take, the choices they have to make to get that peaceful ending they want. Don't be fooled by the cheerful characters and bright colors and scenery — Overwatch has as much depth as any other Blizzard title. It just hasn't been fully fleshed out yet, and there's still plenty more to come.