Heroes of the Storm teases its newest hero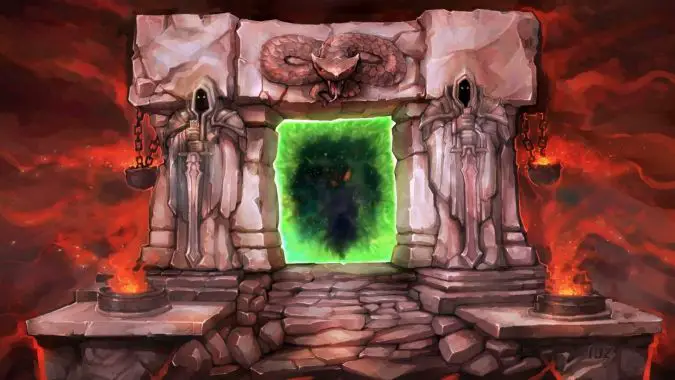 It's been a few weeks since Heroes of the Storm revealed Stukov as its latest hero, which means it's time for another figure to take the stage and steal the title of "newest hero." While we don't have an official reveal just yet, we do have a pretty open-ended teaser that was displayed during HGC China earlier today. The image (also seen above) is a simple one: The Dark Portal, with the faintest, green-eyed silhouette of our next hero in the center.
Blizzard later followed this teaser with a GIF posted to Twitter. The GIF, it should be noted, is simply the Dark Portal within WoW — there's no silhouette here. However, it might be worth noting that we're being teased with the pre-Warlords version of the portal, the one that leads to Outland.
— Heroes of the Storm (@BlizzHeroes) July 19, 2017
Naturally, speculation is already running rampant in the Heroes community. Responses range from the silly — "the new hero is the Dark Portal!" — to legitimate speculation. Right now, it seems a lot of people are putting their money on Teron Gorefiend, whom many WoW players likely faced in the recent Black Temple Timewalking event.
But there's also a strong argument in favor of Ner'zhul, courtesy of Reddit user Graysmith, who points out the similarities between this teaser and Ner'zhul's silhouette from a Warcraft 2 cinematic. Then again, there are a lot — seriously, a lot — of possibilities if we're talking someone who hails from Outland. Khadgar, Garrosh, Akama… the list goes on.
For now, all we can do is wait — and speculate wildly, as we are wont to do. Personally, I'm still rooting for my boy Kel'Thuzad (and will continue to do so until he actually makes his Nexus debut). Who do you think we're getting as our next hero?