Nightmare-fuel Anub'arak, Templar Li-Ming, and more coming to the Nexus soon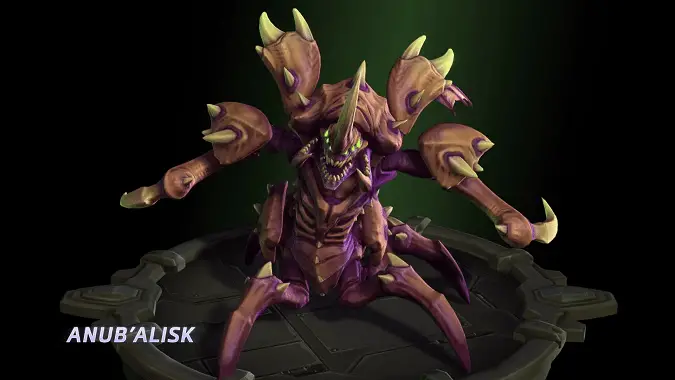 Garrosh will be coming to the Nexus in the not-too-distant future, and like most hero additions, he's not coming alone. The Heroes of the Storm team just released the latest in-development video, and it's chock full of goodies. My personal favorites are the Anub'alisk skin that turns Anub'arak into a Zerg, and the Templar Li-Ming skin which… well, I'm sure it's going to be quite a hit with a certain coworker.
For those who can't watch the video, here's a quick TL;DR of all the new skins we'll be getting:
Mad Axe Garrosh
L800 ETC
Anub'alisk
Templar Li-Ming
Several new recolors of existing skins
On top of those, we'll be getting a new motorcycle mount, which pairs perfectly with the L800 ETC and Mad Axe Garrosh skins. Eventually, I hope we'll be able to recreate the entirety of Mad Max in Heroes.
But perhaps definitely the best addition to Heroes coming with the Garrosh patch is the Spooky Undead Axe Midget portrait. If you're unfamiliar with this infamous tale, I highly suggest you check out the original inspiration for this particular portrait's addition. Well done on including all the memes, Heroes team.
Ever since Heroes made the jump to "2.0," Blizzard has had more and more to add with each patch — albeit, some of the additions are portraits and sprays, but they're additions no less. That trend continues with this patch, as there are far too many new sprays and portraits to list here. Suffice it to say, there's a lot to look forward to in the Garrosh patch, which is not a phrase I ever expected to be saying.