Roadhog and Junkrat invade Overwatch's new Junkertown map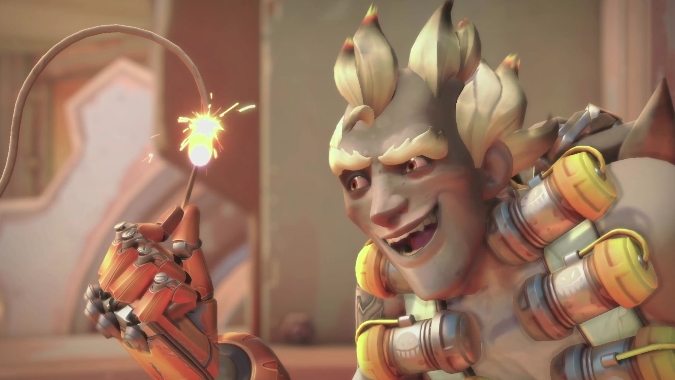 So, you say you want an Overwatch map where Junkrat and Roadhog run wild? A Mad Max-inspired wastelander extravaganza? With dystopian messages played over a loudspeaker while an utterly improbably scenario involving a treasure-and-explosives-laden cart takes place and mayhem, sweet sweet mayhem ensues? The Overwatch team has heard you, and the new Junkertown map is the answer to your prayers.
Featuring more of the backstory of our two favorite lunatics from Australia, the Junkertown map is rooted in the aftermath of the Omnic Crisis, when the Australian government decided to give the Omnics territory without stopping to consider that people already lived there. As you might expect, they didn't take it too well. (If you want the whole story, we have a Know Your Lore on it.) The Overwatch team has in the past done some excellent things with maps that both give a fun new gameplay experience like the moon base, so I'm hoping some of that same magic will be at play here in Junkertown, which you can see in action in the video below.
The Queen of Junkertown herself is a new character to me — I'm hoping we find out more about her as time progresses. I'm definitely curious about how this map is going to work. Junkrat's ludicrously over the top plan sounds like it's the actual gameplay — so there's likely a timer before the cart explodes, and you likely have to fight your way in (or stop the other team from doing so) before it all goes up in flames, as befits a Junkrat plan. Will there be other surprises? What will they be? We'll find out once we see the map itself at Gamescom, but just the teases we've gotten so far have me excited. Getting to watch Junkrat and Roadhog play off each other (and that Cowboy Bebop reference, which I missed it the first few times) was simply awesome, brilliant work from the cinematic team over there.