WoW
Sep 21, 2017 12:17 pm CT
A Thousand Years of War audio drama answers a thousand years of questions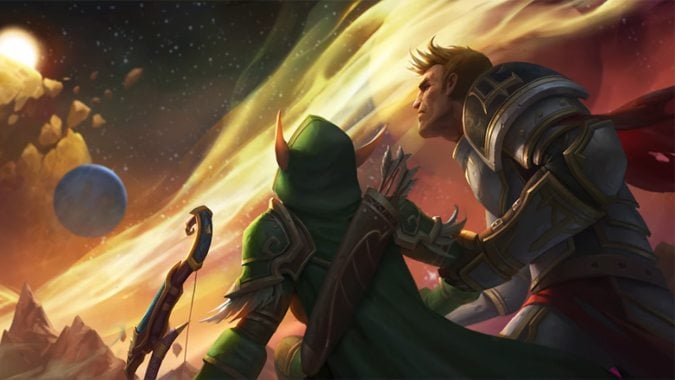 Finally, we've got some answers! Blizzard has just released not a new short story, but a new three-part audio drama along the same vein as last year's Tomb of Sargeras. A Thousand Years of War tells the story we've seen hinted at since we arrived on Argus – and answers a lot of questions along the way. It's the story we've been waiting to hear since Alleria and Turalyon's disappearance – where they've been and how they got there.
Although we knew the two eventually ended up with the Army of Light, we weren't given the details in game. And one of the questions that has been asked the most since 7.3's release was how they managed to survive so long – Turalyon in particular. The question is directly addressed and answered over the course of the story. But we're talking a thousand years of time here, so of course there's more than just that.
Written by Robert Brooks, A Thousand Years of War isn't just Turalyon's story, it's also a tale of Light and Void. The dynamic between these two cosmic forces has been a subject of debate for quite some time. Brooks does an excellent job in elegantly presenting that dynamic in a way that clarifies some points without revealing everything.  There are still mysteries left to be solved here – but we have more pieces to the puzzle, now.
And for those wondering about that brief mention of Alleria being imprisoned, that story is told here as well. The interesting relationship between Alleria and the Locus-Walker, first introduced in the Mac'Aree storyline, is also explored. You get to see how they met, what happened, and get a little more explanation for Alleria's apparent fascination with all things shadow.
The audio drama is once again narrated by Stephen Pacey, the voice behind Tomb of Sargeras. I am absolutely thrilled that this time around, there are voice actors are involved. One of the only regrets and bits of criticism I had for Tomb of Sargeras was that I wished we could've had the voice actors read the dialogue. I don't think the actors in Thousand Years of War are the same as the in-game voices, but I'm still excited to see they've brought actors in this time around. Blizzard has really stepped up the voice acting this expansion. It's only natural to see it reflected in an audio drama as well as in-game.
A Thousand Years of War doesn't answer every question we have about the Army of the Light's history, but it addresses the important points. The story of Alleria and Turalyon's continued relationship is beautifully woven together with that relationship between Light and Void. By doing so, A Thousand Years of War highlights both, all while leaving room for future tales of the Army of the Light if warranted. While I don't know if we'll see more (A Lothraxion origin story, anyone?), I'm glad the option is available if Blizzard wants to take it. You can listen to all three parts of A Thousand Years of War on the official website, or download the official transcript there if you'd rather read the tale yourself.