The Queue: Trial accounts, RNG and the Crucible, and skipping the scenario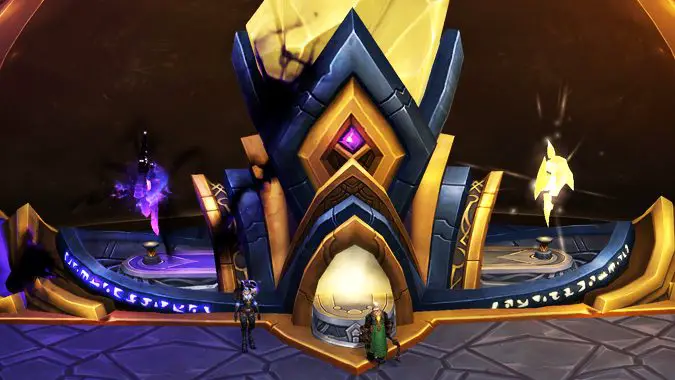 We'll jump into the Queue today. Went hunting a lot of questions, but um… you guys had some interesting choices in videos and gifs on Friday and over the weekend, that's for sure…
---
REMORSE ASKED:
QftQ: I don't sub to WoW anymore but occasionally I get a craving to just go back and sight-see again, but not enough for a month's worth. Are there any limits to how many times you can create a trial character, delete it if your slots get full, and do it over again?
Nope, you'll be able to create as many trail characters as you want, same restrictions as normal server/account limits apply. I have some friends that do this a couple times a year; although I honestly don't know why they just don't up and subscribe again.
---
MAALING LAMENTED:
I really feel like Blizz pulled a fast one on us with the Netherlight Crucible, even beyond the excessive RNG it adds. Originally they said that concordance was just supposed to be a way to make players feel that AP gains weren't completely wasted, and that it was supposed to feel so infinite that we wouldn't even want to try maxing it out. Then they put in the crucible and suddenly we really need to be grinding out those levels. So relaxing and working on my alts turns out to have been a huge mistake as far as my main goes. On the other hand, it was not a mistake as far as keeping my sanity. But now the whole AP grind just feels worse than ever.
I get your point, it did end up a bit counter intitutive at the start.
But, and this is a big but (heheh, I'm a 12-year old), the artifact knowledge percentage increase is already starting to stack. Soon you're going to be getting a billion+ from normal world quest items; and that means that the 20 billion or whatever you need to advance to the next level isn't going to seem like that big of a deal. Right now in playing very casually, I find myself gaining an artifact level about once a week. If that pace continues the grind is sorta there, but it's not like a huge grind.
I do think the RNG factor the Crucible was a big unclear from Blizzard at the start. They missed the mark on communication. That said … it's not unlike other game's RNG weapon aspects, so I don't think there's a lot of reason for people to be too upset over it. Annoyed, yes, but when compared to something like Diablo 3, it's nothing.
For what it's worth, the increase in return of grinding Artifact Power has lead me to delay alts until it becomes necessary to only grab a few items to hit Concordence and get the mounts. No need to waste my time now when in a month from now it's going to be all of 10 minutes of work, if that.
---
ENO COMMENTED:
Gotta love that "I've heard this story before… Skip the scenario" option for Broken Shore. Just got to use it for the first time on my demolock.
This was, by far and away, the best surprise of Legion for me thus far.
Even more so than the end of the Argus quest line.
---
Have questions for the Queue? Remember that it's not all gifs and videos! We need your Qs to A. Leave 'em in the comments and we'll pick them up in a future edition!