Let's start guessing what's in BlizzCon's giant loot box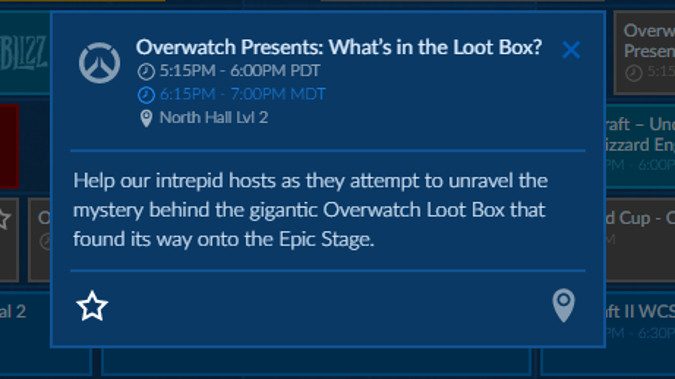 Guys, I think I've found the ultimate BlizzCon panel. To wit:
Overwatch Presents: What's in the Loot Box?
5:15PM – 6:00PM PDT

Help our intrepid hosts as they attempt to unravel the mystery behind the gigantic Overwatch Loot Box that found its way onto the Epic Stage.
Now, of course I have no idea what's in the giant loot box. I mean, I have speculations and theories, ranging from the prosaic (a lot of Overwatch merch for someone in the audience to win) to the grandiose (a life size MEKA suit like D.Va pilots so that a lucky person can finally ride around in one) but I don't know. But I'm a sucker for coming up with ideas. A life-size Zarya statue? The entire collection of JINX Overwatch gear? A large cake that Jeff Kaplan will pop out of? A Deinonychus? The first ten minutes of a new Overwatch TV series that's going to air on Blizzard's new streaming service? Oh, don't tell me Blizzard doesn't have one, sometimes I feel like everyone has one.
If you're at BlizzCon I frankly don't know how you're going to resist the siren call of a giant Loot Box just waiting to be opened and reveal an Overwatch treasure so enormous and terrifying that we have at this time no idea what it could possibly be. Unless it's just sprays for everyone in the audience. It could be that. Really, there's no way to know! It could be a new hero for the game — I hear that Junkertown Queen was a heck of a gladiator — or something else entirely. The only way to find out is to show up or watch it on the Virtual Ticket.