Seat of the Triumvirate gets extensive nerfs in latest WoW hotfixes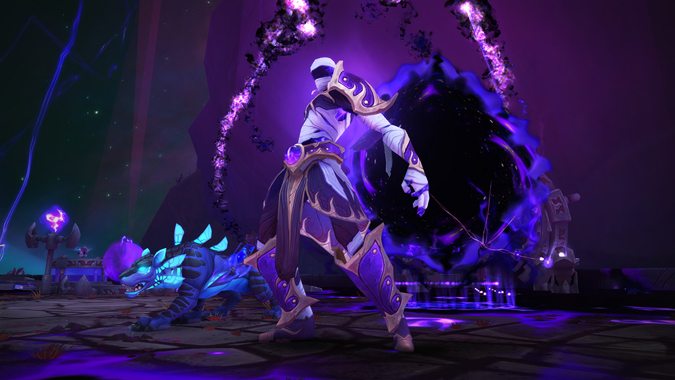 Seat of the Triumvirate is getting some pretty hefty nerfs, both in Heroic and Mythic difficulty, which should be pretty welcome to anyone who may have been tricked by their friends into doing a +17 key for the dungeon. Okay, that someone is me, but I bet it won't be unwelcome to others who have had the pleasure of attempting Mythic+ keys there. The nerfs all affect certain abilities that seemed rather overtuned, as opposed to generic boss and health nerfs that we usually see. Every boss in the dungeon sees a nerf to an ability or two of some sort, as do a lot of the trash mob abilities. They aren't small nerfs either, with most of the ability damage being reduced by 20-30% and entire seconds being taken off cast times or stun durations.
There are a variety of other changes as well, including some Stamina buffs for Vengeance Demon Hunters and Protection Paladins, as well as small bug fixes for Shadow Priests and Fury Warriors. Most important of all, the Horse Tail Costume from this year's Hallow's End has been blessed with an actual tail.
Check out the full hotfixes below.
Classes
Demon Hunter

Vengeance

Demonic Wards stamina bonus increased to 65% (was 55%).

Paladin

Protection

Passive stamina bonus increased to 40% (was 30%).

Priest

Shadow

Void Tendrils no longer cause performance issues when attacking an enemy affected by Grounding Totem.

Warrior

Fury

Rampage will now consume the Massacre buff when it is cast, instead of on the final hit.
Meat Cleaver will no longer be canceled early if Whirlwind is cast while a Rampage animation is in progress.
Dungeons and Raids
Seat of the Triumvirate

Common enemies

Arcing Void damage reduced by 20% in Mythic difficulty.
Collapse cast time increased to 5 seconds in Heroic and Mythic difficulties (was 4 seconds).
Consume Essence damage reduced by 20% in Mythic difficulty.
Dark Withering damage reduced by 33% and damage taken debuff lowered to 10% per stack (was 20%) in Mythic difficulty.
Negating Brand damage reduced by 25% in Heroic and Mythic difficulties.
Unstable Dark Matter base health reduced 20% in all difficulties.

Zuraal the Ascended

Decimate damage reduced 40% in Mythic difficulty.

Saprish

Void Trap stun duration reduced to 4 seconds (was 5 seconds) and can be dispelled.
Dread Screech cast time increased to 3 seconds (was 2.5 seconds).

Viceroy Nezhar

The number of summoned Umbral Tentacles reduced to 3 with each summoning (was 4).
Void Lashing cast time increased to 2.5 seconds (was 2 seconds) and duration reduced to 5 seconds (was 6 seconds) in all difficulties.
Void Lashing healing reduction reduced to 2.5% (was 5%) per stack, max stacks increased to 40 (was 20), and duration reduced to 8 seconds (was 15 seconds) in Mythic difficulty.

L'ura

Naaru's Lament damage reduced by 20% in Mythic difficulty.
Umbral Cadence damage reduced by 15% in all difficulties.
Player vs Player
The Fierce Combatant achievement is once again visible in the Player vs Player achievement category.
Recurrent Arena and Rated Battleground titles such as Duelist and Gladiator are now correctly available to players who earned their respective achievements in Season 4.
Temple of Kotmogu

Orbs of Power are no longer dropped when you attempt to summon a mount. Successfully summoning a mount will still drop the Orb.
Quests
"Supplying the Antoran Campaign", and similar quests, can now be turned in to Turalyon on any instance of the Vindicaar.
Toys
The Horse Tail Costume now comes with a tail, as advertised.