WoW
Nov 2, 2017 10:00 am CT
Day of the Dead rises from the grave in WoW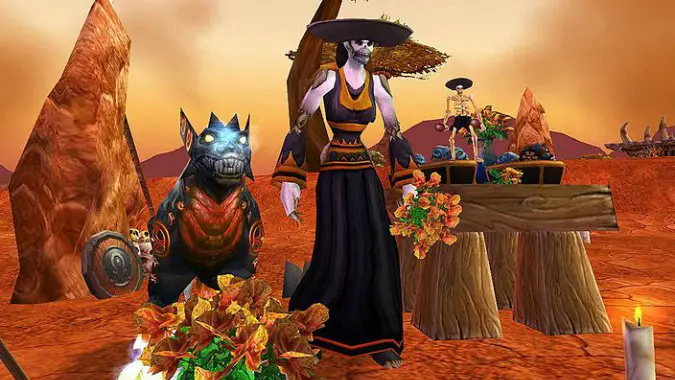 So Hallow's End is done but you still crave some macabre goodness. Well, Blizzard has you die hard ghouls covered with its Day of the Dead hijinks. Based on the real life celebration, you can partake in the holiday by visiting the graveyards of all capital cities like Stormwind or Orgrimmar, both Dalarans, and other locales.
It's not a holiday that demands a lot out of you. Simply travel to one of the graveyards and find a female undead named Catrina. She's dying to tell you all about the Day of the Dead, and make sure you favor her with a /dance emote to gain the Dead Man's Party achievement and be transformed either into a facsimile of Catrina or her male counterpart Chapman.
There's a quest chain to gain the Macabre Marionette as well as various lucha libre themed costumes available for sale from Chapman – the costumes are useful if you're an achievement hunter as there are three new achievements available for battling other players while wearing them. Wowhead has a guide up to the holiday and all the quests and achievements you can complete. As expected for a holiday that only lasts three days, it's not a terribly involved one — there's the one quest chain and four total achievements associated with the Day of the Dead. But if you're a completionist, that's four you might not have yet. Chapman also sells various other small holiday items, including a Whimsical Skull Mask that is similar to what people wear in the actual holiday.
So if you were lamenting that Hallow's End was over, you've got a couple days left to get your spooky on in World of Warcraft via the Day of the Dead. Get out there and dance with the dead.
During the Day of the Dead, people gather in graveyards to celebrate with and cherish the spirits of those they have lost.
¡Oh hermosura mortal, cometa al viento!,
¿dónde tan alta presunción vivía,
desprecian los gusanos aposento
From: A una Calavera  (To a Skull) Poem **
EVENT DETAILS
When: November 1–3
Where: Graveyards of all Capital Cities
/Dance /dance /dance señora (y señor) with Catrina to take the form of a skeleton and earn an achievement and join the Dead Man's Party*.
A little Bread of the Dead can go a long way to restoring your health, so make sure to purchase the recipe from Chapman, who can also be found in Dalaran in the Broken Isles. He's got a few other goodies you can purchase to make it a truly festive holiday, so be sure to speak to him to see his wares.
You can learn more about Day of the Dead on Wowhead's holiday guide.
*Who could ask for more? Leave your body and soul at the door…
**English Translation:
Oh mortal beauty, kite in the wind!,
  Where such lofty presumption lived,
The worms despise the chamber.