BlizzCon 2017: Hands on with Hearthstone's Kobolds and Catacombs Dungeon Run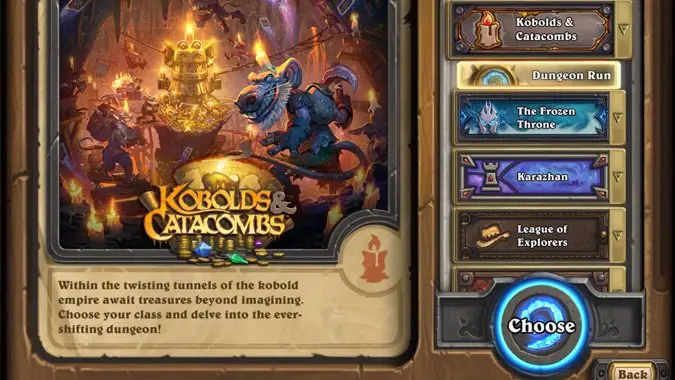 Hello from BlizzCon, everybody! Hearthstone's recently-announced expansion Kobolds and Catacombs is available on the show floor to play. This expansion won't have an adventure to it, instead focusing on the new Dungeon Run feature for single-player content. After some lining up, I was able to give the new Dungeon Run feature a spin — here's what I learned.
Dungeon Run basics
In this mode, players don't get to design their own decks. You get to choose what class you want to try with and you're given a predetermined set of cards. (That's right, you don't need to have cards in your collection to participate in it.) As you defeat bosses, you'll earn rewards like passive abilities granting you bonuses throughout your run, card packs that you can add to your deck, or powerful treasure cards. However, if you lose, your deck is done and you'll need to start all over again.
Fighting through Hearthstone's dungeons
The first boss I played against was a Wee Whelp which had 10 health. The Mage deck I chose had typical Mage cards like Frostbolt, Sorcerer's Apprentice, and Ice Barrier, and I was also quite delighted to see Chillwind Yeti in there. The Yeti was one of my best friends during the early year of Hearthstone just due to the power and tankiness it had at 4 mana. The Whelp was a pushover: once the Yeti was dropped into play, a Frostbolt plus a few Hero Powers made short work of him.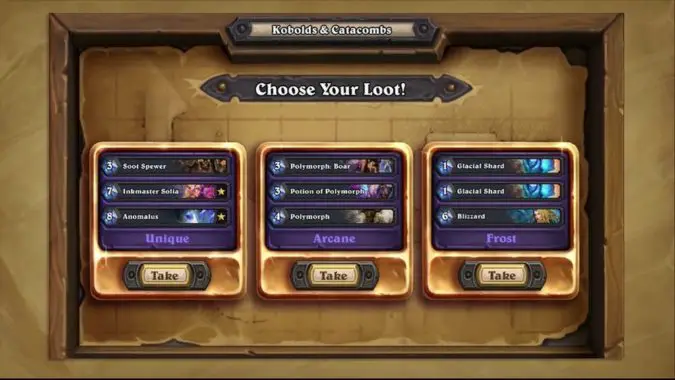 Reaping the rewards
With the Mage deck, after defeating that boss, I had the option of a Frost pack, a Fire pack, or an Arcane pack (similar to the screenshot above). My Fire pack had a Fireball, a Firelands Portal, and a Pyroblast. The Frost pack had 2 Frost Novas and a Doomsayer. I can't remember the Arcane one which tells me it probably wasn't that great to begin with.
After making quick work of my second opponent, Frostfur, I had a choice between the Vorpal Dagger (2 mana 1/4 weapon with Mega Windfury and Poisonous), Gloves of Mugging (Steal 3 cards from your opponent's hand), or a Wax Rager (3 mana, 5/1 minion with a Deathrattle that it can be resummoned into play). I went with the Dagger as I liked having extra removal options. It had the benefit of freeing my damage spells to go right to my opponent.
My time was up after that as only a select few number of bosses were available on the show floor. It was a great preview of the upcoming Dungeon Run though and I can't wait for this one to be released next month alongside Kobolds and Catacombs.
I can't emphasize enough that each run will be quite different. Even if I pick Mage again, I may not get access to the same collection of buffs and cards as I did in previous runs. While it isn't quite an adventure, the Dungeon Run will be fun and not too repetitive on it's own.