BlizzCon 2017: Inside the Overwatch League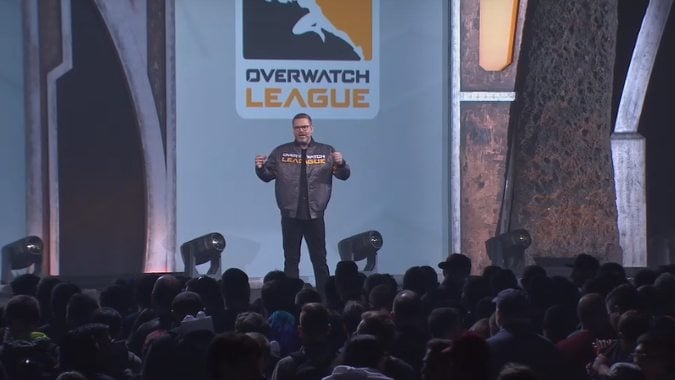 The commissioner of the Overwatch League, Nate Nanzer, started off the panel by talking about the general direction of the league. He talked about how they really wanted to inspire what they called "generational fandom," which is a pretty easy term to grasp if you saw the stories after the Cubs won the World Series last year.
They're designing the league to follow through with that, too. One of the ways they're doing this is by dividing the League into two divisions: Atlantic and Pacific. He then named off the teams and which division they would be in, showcasing their team uniforms, colors and mascots along the way.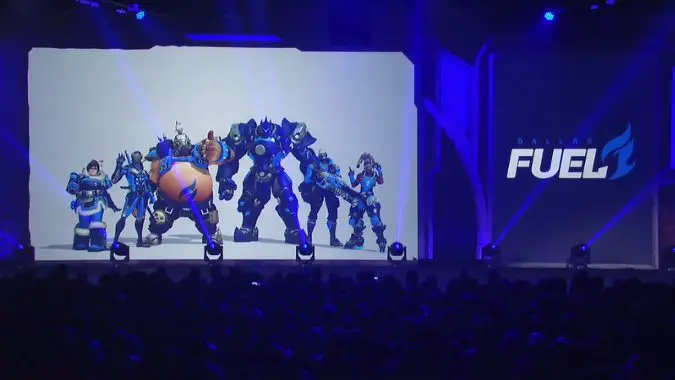 The divisions are as follows:
Atlantic

Boston Uprising
London Spitfire
Florida Mayhem
Houston Outlaws
New York Excelsior
Philadelphia Fusion

Pacific

Dallas Fuel
Los Angeles Gladiators
Los Angeles Valiant
San Francisco Shock
Seoul Dynasty
Shanghai Dragons
Each division has match times based on geography, so hopefully most fans will be able to catch most matches.
Speaking of matches, Nate then outlined the entire match schedule of week one of season one of Overwatch League, which will start on January 10.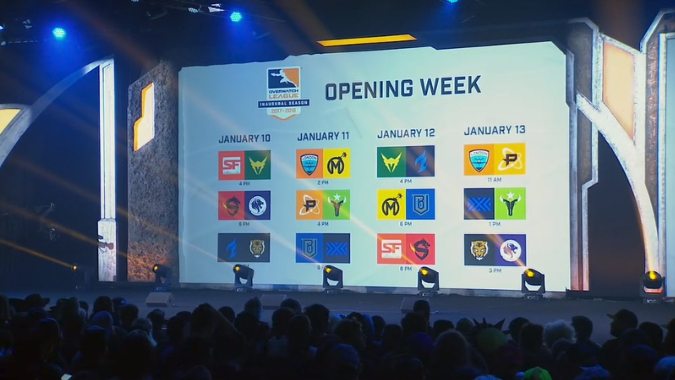 Matches will run Wednesday through Saturday, with three matches every day. Each match will play out on four maps from a total pool of eight out of the sixteen available to play. Those eight maps will rotate out in each stage.
There will be four stages of five weeks, and after those four stages are over, there will be a playoff championship series. The championships start July 11, with the finals starting July 26th. There will also be player performance bonuses. The reason they decided to go with five stages is to ensure every team has renewed enthusiasm to compete. Once you're down it's hard to dig yourself out of that hole. The many stages also makes it easier for fans to hang on to hope that maybe their favorite team will stop sucking next stage.
Behold the Overwatch League team uniforms! Teams will have in-game versions for home and away games. pic.twitter.com/S7pZVX6CnS

— Overwatch League (@overwatchleague) November 5, 2017
At that point, they gave us a look at how the new observer UI will make it a bit easier to follow the action. Nanzer discussed the team uniforms a bit, saying that the bright colors paired to each team's announcement were the Home hero skins, while the Away hero skins were much lighter and more muted in color. They showed us a snippet of a hypothetical match between the blue-themed Dallas Fuel and the black and gold Seoul Dynasty.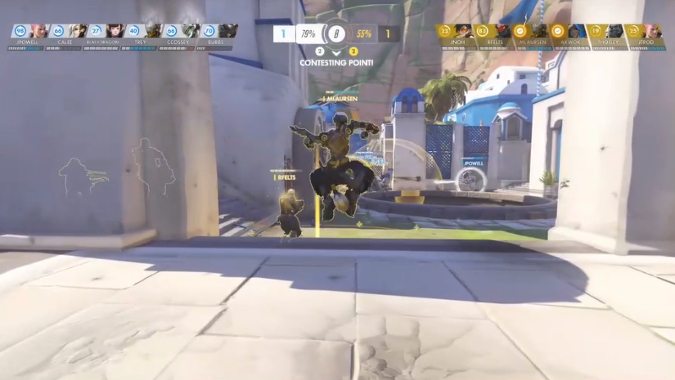 Nanzer then hinted that people who play Overwatch may be able to purchase skins to show their team support in-game.
Another way to support your team is physical merchandise. Nanzer showed us a few items, like shirts, hats, and even socks, that will be available for purchase on the official Overwatch League site December 6th. This was a part of a larger discussion about the revamped Overwatch League website as a whole, which has a ton of cool features and is live now. They do have a game schedule, and the rosters of each team, but that's pretty expected.
Less expected is a full statistics tracking suite. Nate added that if you put in your own Blizzard Battle.net login, you can see how your stats measure up against the pros. There are also some videos on the site designed to take the fans behind the scenes and really let them get to know the players. I know I'm watching this video about CoolMatt69 as soon as I'm finished with this post.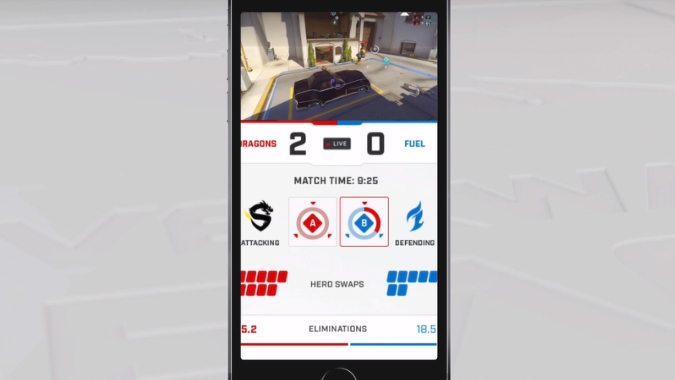 But we're not finished yet! Nanzer also showed off an Overwatch League app, where you can watch matches in real time. It has stats, both in-game and the stats available on the website, but in your pocket.
Nanzer closed with a hopeful statement for the future. They want to expand the League in the future, with lots more teams. He's excited for next season, when they'll be playing matches around the globe in a truly international league. And after this panel, I'm pretty excited too.