WoW
Nov 14, 2017 11:15 am CT
Battle for Azeroth prequel novel Before the Storm gets June 2018 release date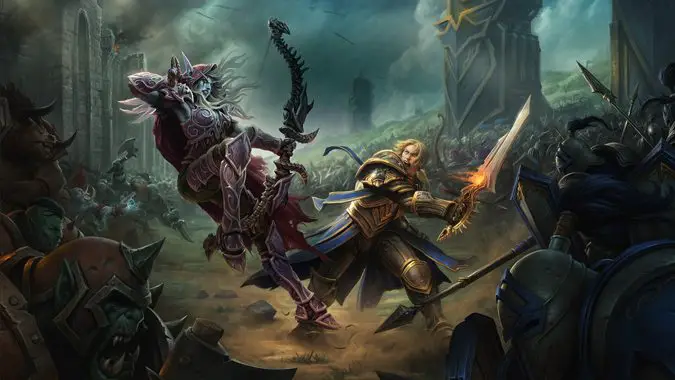 If you've been waiting for news on when Before the Storm, the prequel novel to Battle for Azeroth, will be released you need wait no longer. However, you will need to wait a bit longer for the actual book. Amazon has updated the release date on their pre-order page for the book. Turns out it's a bit of a wait: the new date for the book is June 12, 2018. What that means for the expansion the book is meant to be a prequel for isn't clear yet, but I'd say it means we're looking at an August or later expansion release. Considering we saw the first of Battle for Azeroth at BlizzCon 2017, that's not a surprise.
The book's description points to a slightly new detail in the conflict between the Alliance and the Horde.
In Before the Storm, Anduin Wrynn, king of Stormwind, and Sylvanas Windrunner, warchief of the Horde, are new to their positions of power, both ascending before they were truly prepared. As the Alliance and the Horde struggle to recover from the devastating war with the demonic Burning Legion, a terrible discovery will test both leaders, threatening to reignite the bitter enmity between their factions and shake the very foundations of the world of Azeroth.
What exactly is this terrible discovery? The preview chapter we saw at BlizzCon hints at it, with the scene set in Silithus. What exactly is happening in that scene isn't clear, but it points at something akin to that description — a new discovery that will alter the balance of power between the factions. What we saw and heard at BlizzCon hints that it's probably linked to the Heart of Azeroth Artifact necklace we'll be leveling throughout the expansion.
But we're left guessing until Before the Storm comes out. So until June 12, 2018, all we have are theories about all this, but at least we finally know when those theories will be paying off. Of course, we can't be absolutely sure that the novel will release on that date — Amazon is notorious for winging it sometimes — but it's a target, at least.