WoW
Nov 28, 2017 11:42 am CT
Spoilers abound in the Antorus the Burning Throne end cinematic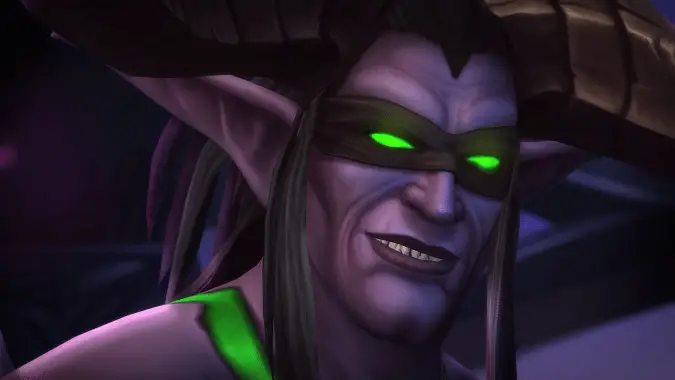 Spoiler Warning: This post is about the ending cinematic for Antorus, the Burning Throne. If you want to remain unspoiled for the end of Antorus, don't read this post.
I'm serious. There is no reason to be in this post reading any further if you're attempting to stay unspoiled. The raid is live, the last fight has been completed, and if you keep on going you're going to see the end cinematic. If that's not what you want, turn back now.
I feel like you've been thoroughly warned by this point, so here we go.
The folks at Wowhead have worked their magic yet again, and moments after the fight was beaten have provided this clean video of the ending cinematic.
What's happening here is the culmination of everything we've heard and seen throughout Legion. Frankly, I often feel like Legion could have been two expansions: one where we dealt with the Legion's attack on Azeroth culminating in the Tomb of Sargeras and one where we went to Argus and defeated Sargeras once and for all. And what we see here at the end of Antorus, after the defeat of Argus the Unmaker, is that defeat.
Clearly some things happen during the raid that aren't referenced here — the Titan Pantheon seem to be restored to some semblance of their former selves, including Aggramar, who was a boss in the raid. But also clearly Sargeras was attacking Azeroth directly, as the video shows him hidden within some kind of massive cloud and the rest of the Pantheon plus Illidan pulling him out to "end his Crusade."
The video doesn't make it clear exactly what happened, but based on spoiler sound files and other things we've previously seen, it seems clear that Illidan and the Pantheon have imprisoned Sargeras in the Seat of the Pantheon and in the process have imprisoned themselves. The cost of the end of the Burning Crusade and Sargeras' defeat is that they must serve as his jailers forever, which is a nice bit of cycle coming around for Illidan.
But just as clearly, Sargeras doesn't take this moment calmly, and his final attack on Azeroth may still doom the final Titan sleeping within the world. With the Pantheon imprisoned, how will Azeroth be healed from Sargeras' final attack? We know that the Heart of Azeroth and Azerite in Battle for Azeroth will play a role in this story going forward.
For right now, though, the Legion as a unified force led by the Fallen Titan is no more. What we'll see in the future is anybody's guess, but the video shows us Illidan's last stand, the end of Sargeras for now, and the reason the Titans won't be helping us from here on out.