Latest Overwatch PTR addresses numerous Doomfist bugs and more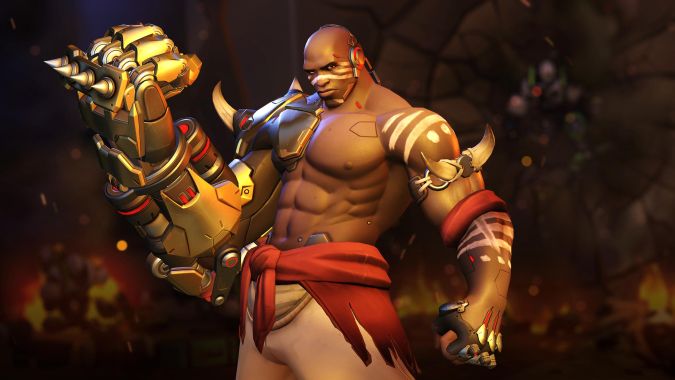 The latest patch to hit the Overwatch PTR is tackling a number of issues with Doomfist. Players have been concerned with a variety of bugs surrounding Doomfist's Rocket Punch and Sesmic Slam abilities — the kind of bugs that make the hero very difficult to play. But the PTR also includes some fixes for new hero Moira's Biotic Orb and Biotic Grasp abilities as well. In fact, the PTR primarily composed of bug fixes — Sombra's Hack, Widowmaker's Grappling Hook, and Mercy's Guardian Angel targeting have all also been addressed.
All of these fixes are intended to be part of patch 1.18. Players can hop on the PTR right now to check out the changes  — however, at this time there's no ETA for the release of the patch.
Public Test Region Patch Notes
Please note that the below patch notes only include changes currently available for testing on the PTR. While many of these changes will also be available on PlayStation 4 and Xbox One in a future patch, the PTR is PC-only and therefore will only reflect changes coming specifically to that platform.
To share your feedback or report and issue, please post in the PTR Feedback or PTR Bug Report forums.
HERO UPDATES
Genji
Added green detail textures on Sparrow Genji's sword scabbard when the golden weapon variant is equipped
BUG FIXES
Heroes
Fixed a bug that caused Doomfist's Rocket Punch to not always deal damage when an enemy hits a wall
Fixed a bug that caused Doomfist's Rocket Punch to not always stop an enemies' movement when they impact a wall
Fixed a bug that prevented Doomfist's Rocket Punch from correctly pinning targets to walls
Fixed an issue that canceled Doomfist's Seismic Slam when it was unable to reach the targeted location
Fixed an issue that caused Doomfist's Seismic Slam to trigger instantly when the ability was used to travel up inclines
Fixed a bug that showed Mercy's Guardian Angel targeting UI on allies while it was already in progress on a selected target
Fixed a bug that allowed Moira's Biotic Orb to pass through terrain and structures
Fixed an issue that prevented Moira's self-healing statistic from being collected and displayed in the game stats
Fixed an issue that prevented players from using Moira's Biotic Orb's regeneration option when primary fire was disabled
Fixed a bug that prevented Moira's Biotic Orb from depleting over time after being deflected by Genji
Fixed an issue that prevented the beam on Moira's Biotic Grasp from tracking targets correctly
Fixed a bug that prevented Moira's Coalescence from healing allied characters when they were phased (e.g. Reaper's Wraith Form)
Fixed a bug that prevented Sombra's Hack from interrupting Tracer's Pulse Bomb if it was being thrown
Fixed a bug that prevented Widowmaker's Grappling Hook from pulling players to moveable objects, even when they were stationary (e.g. the window on the Eichenwalde Castle doors)
Maps
Fixed an issue that allowed some heroes to hide on the Junkertown payload when using sit emotes
The PTR patch notes don't exactly explain what's being done for Doomfist in detail, so Principal Designer Geoff Goodman hopped on the forums to provide some additional detail. Rocket Punch may be fixed, but there are other issues Blizzard is still working on with the hero. Seismic Slam has been mostly addressed, but there's still an issue with targeting players near corners. In addition, there are a few issues Blizzard is still investigating and trying to identify, so they can apply a proper fix.
I wanted to give you guys a quick update on some Doomfist issues we've been working on. We've just updated the PTR today with many bug fixes, and even since then we've fixed a few more. Here is a summary of where we are right now with Doomfist issues specifically:
Things that are fixed
Wall slamming should be much improved. The wall slamming logic has also been simplified so players should find that a 45 degree impact angle is the cutoff between the target being slammed into the wall, or sliding off. This is the biggest change that should be noticeable instantly.
Rocket Punch now breaks breakables again. Not only was the bug fixed that caused it to no longer break breakables, but the system we have in place now should break them much more consistently than before.
Seismic Slam being canceled when landing too close to a wall should be fixed.
Seismic Slam will now 'slide' a small ways up ramps instead of instantly triggering. Winston's leap has also changed in the same way. The slide distance is manually tuned so let us know if it seems like he is sliding up ramps too much or too little.
Things we're still working on
Seismic Slam has a bug when you or your target is near a corner, it will sometimes not find them as a valid target. We have identified this bug but it is going to take a little longer to get a fix in place.
Ghost punches. This is an issue where you Rocket Punch and go through an enemy, instead of impact them. Some of these reports are latency related, but we did find an issue that was causing this to come up beyond just typical networking issues. Hopefully we'll get in a fix in soon.
Corner bounce. This happens if you use Rocket Punch near a corner or edge, and it causes you to 'bounce' off and slide quite a ways away, probably messing up your punch. This is a recent bug caused by a seemingly unrelated change. We have identified why this can happen though, and are working on a fix for it.
Things we're still investigating
Rocket punch vs. Rocket Punch/Charge. We get reports that it can feel really 'random' what happens when 2 Doomfists using Rocket Punch hit each other, or a Reinhardt using charge hits a Doomfist that is Rocket Punching. We're still gathering data and information on this one, and hope to be able to improve the consistency of situation. The intended result is that both players should fall over, much in the same way that two Reinhardts charging into each other knocks both of them down.
Aerial Seismic Slam sometimes causing Grounded Seismic Slam. We've gotten reports of people being up in the air and using Seismic Slam sometimes triggering the 'Grounded' version instead of the 'Aerial' version. This one seems really rare so its pretty hard to track down, but we're looking into it.
We also have heard your feedback that you'd like to see more details about bug fixes in our patch notes, instead of just tuning changes and features. We're going to work on this, so starting next patch there will be more detailed information on this kind of stuff. Thanks for all the feedback and keep it coming, especially if you get a chance to play on the PTR and test out these changes.
It's nice to see Blizzard reach out here to talk about what they're looking at for bugs and changes, and what they're still actively investigating. Players have been asking for more details about bug fixes in the patch notes, and it looks like Blizzard's gotten the message and will be providing more details from here on out. Patch notes for Heroes of the Storm normally have some level of detail along with the usual list of notes — it's great to see Overwatch adopting a similar tactic. As for Doomfist, let's hope the litany of changes helps the hero out, and make him less frustrating to play.