All of Hearthstone's Kobolds and Catacombs expansion cards so far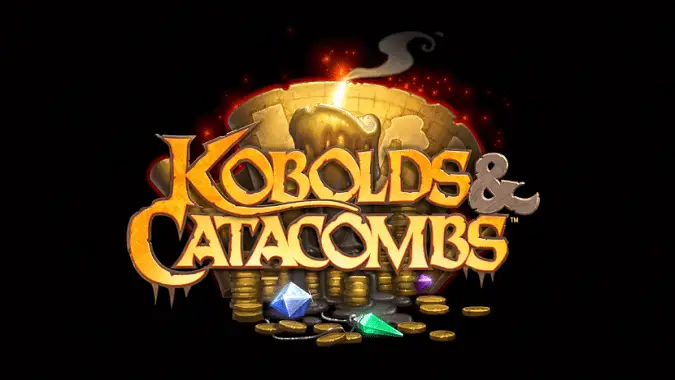 Updated 12/4 (Remaining cards): Candleshot (Hunter), Plated Beetle (Neutral), Dire Mole (Neutral), Barkskin (Druid), Crushing Hand (Shaman), Boisterous Bard (Neutral), Corridor Creeper (Neutral), Corrosive Sludge (Neutral), Dragonslayer (Neutral), Fungal Enchanter (Neutral), Gemstudded Golem (Warrior), Gilded Gargoyle (Priest), Gravelsnout Knight (Neutral), Green Jelly (Neutral), Healing Rain (Shaman), Hooked Reaver (Warlock), Kobold Monk (Neutral), Scorp-o-matic (Neutral), Sewer Crawler (Neutral), Shifting Scroll (Mage), Shrieking Shroom (Neutral), Shroom Brewer (Neutral), Sneaky Devil (Neutral), Stoneskin Basilisk (Neutral), Toothy Chest (Neutral), Trogg Gloomeater (Neutral), Violet Wurm (Neutral), Wax Elemental (Neutral).
Updated 12/4 (Stream): Added Rhok'delar (Hunter), Dark Pact (Warlock), Flanking Strike (Hunter), Kobold Barbarian (Warrior), Sleepy Dragon (Neutral), Cave Hydra (Hunter), Astral Tiger (Druid), Master Oakheart (Neutral), Cavern Shinyfinder (Rogue), Shimmering Courser (Neutral), The Darkness (Neutral), Potion of Heroism (Paladin), Psionic Probe (Priest), Cursed Disciple (Neutral), Fungalmancer (Neutral), Ebon Dragonsmith (Neutral), and Kobold Apprentice (Neutral)
Updated 12/4: Added To My Side! (Hunter), Murmuring Elemental (Shaman), Greedy Sprite (Druid), Void Ripper (Neutral), Twilight Acolyte (Priest), and Woecleaver (Warrior)
Updated 12/2: Added Ironwood Golem (Druid), Oaken Summons (Druid), Kingsbane (Rogue), Crystal Lion (Paladin), and Bladed Gauntlet (Warrior). 
Hearthstone's seventh expansion, Kobolds and Catacombs, comes with 135 new cards and a new solo player experience. All nine classes will be receiving a Legendary weapon and players will receive a free weapon at launch. The expansion launches on December 7 and you can hit the game running with the usual pre-purchase deal, buying a 50-pack bundle for $49.99 which comes with the For the Hoard card back.
But now let's take a look at the cards with a rundown of the new game mechanics and a list of the cards we know about so far.
New card types and mechanics
Recruit
The new Recruit keyword allows you to summon minions from your deck and put them into play. Some cards like Gather Your Party will randomly pull a minion from the deck. Other cards like Guild Recruiter will only pull cards with certain conditions attached to it.
New Game Mode
Dungeon Run is the newest solo game mode to enter Hearthstone. When you start a new run, your deck and hero will progressively grow in power as you work your way through the catacombs. There are 48+ encounters and your objective is to defeat eight of them. Completing a full Dungeon Run with all nine classes will grant you the Candle King card back!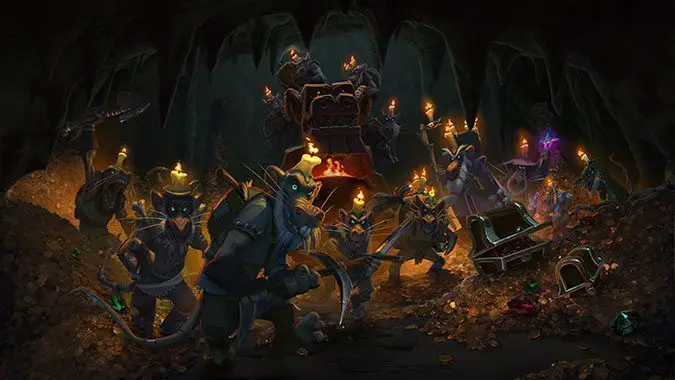 The lore
Curious about the lore behind Hearthstone's new expansion? And just who is this Marin guy, anyway?
The cards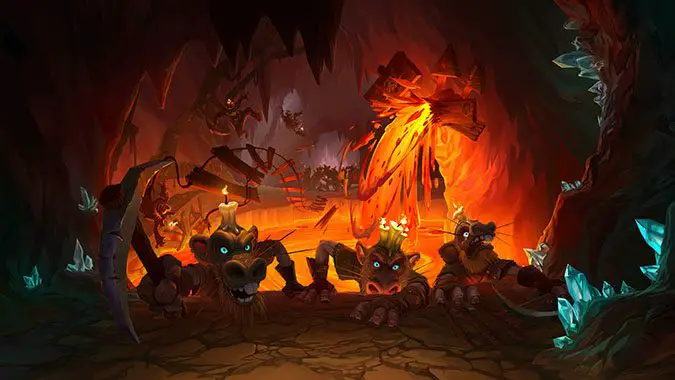 Druid
Hunter
Mage
Paladin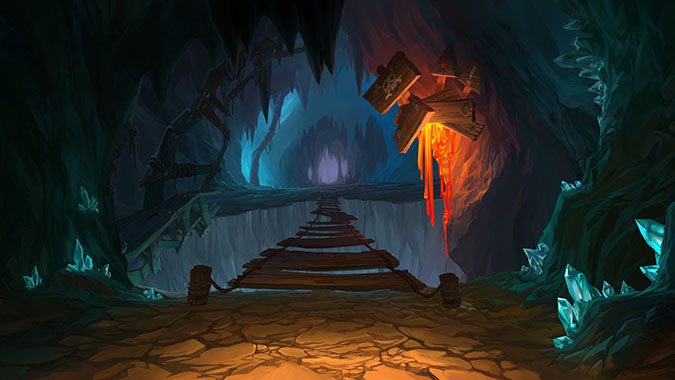 Priest
Rogue
Cavern Shinyfinder 

Can help fetch you Kingsbane.

Kingsbane

Rogue Legendary weapon. It can keep any weapon buffs you apply to it.

Elven Minstrel

Rogue staple here as it can help thin your deck.

Evasion

Similar in idea to Ice Block in that it can save you for a turn but when you play it matters.

Sudden Betrayal

Hey, a Rogue secret! Peter Whalen revealed on stream that Rogues were one of the classes that originally had secrets.

Cheat Death

Similar to Getaway Kodo where if a minion dies, it goes back to your hand. However, the cost of the minion gets reduced by 2.

Sonya Shadowdancer

Wow, this is a really good card. Assuming it sticks on the board long enough for even one or two extra minions, it could give you some added. Who doesn't want another Swashburglar or a 1 mana cost version of Edwin VanCleef?
Shaman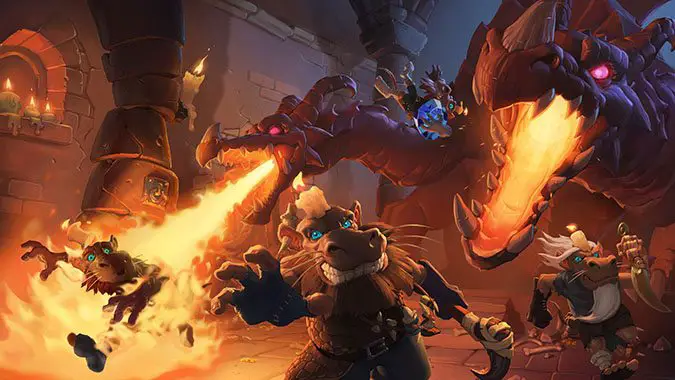 Warlock
Warrior
Neutral