WoW
Dec 7, 2017 5:00 pm CT
Patch 7.3.5 PTR reveals new Allied Race areas
Click here for more photos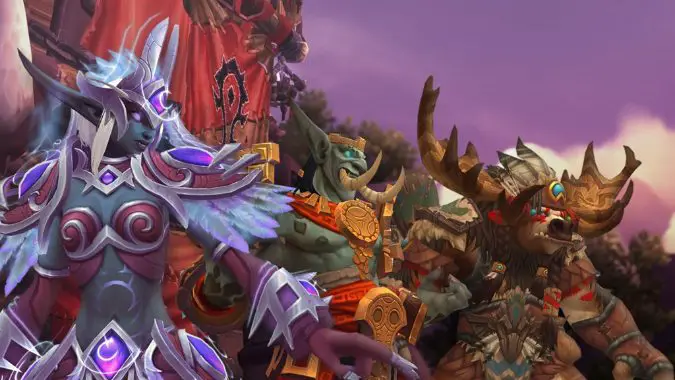 Patch 7.3.5 features some changes to a couple cities we know well from our time spent in Legion. To prepare for the introduction of Allied Races in Battle for Azeroth, we'll be getting lore events to move the story along. Part of these events feature the Allied Races making a home base for themselves.
Please note: These are spoilers for the 7.3.5 PTR. If you're avoiding those, you might want to turn away now!
Wowhead caught sight of changes made to both the Nighthold and Thunder Totem on the PTR, so of course we had to go check out the new updates ourselves.
The Nightborne have been busy since liberating the Nighthold from the Burning Legion with the help of adventurers. On the PTR, they've reclaimed the city, setting it up as a home base for their inclusion in the Horde. Nightborne citizens are hanging about in the city and you'll notice several familiar faces as well. Oculeth is monitoring the portals at the edge of the terrace, where they lead to Dalaran, Orgimmar, and Shal'Aran. The area where Ly'leth Lunastre was held prisoner is now the Captain's Quarters. Thalyssra and Ly'leth are both present there.
Meanwhile, Silgryn and Arluelle are moseying around the center fountain. Surrounding the area are Terrace Grove-Tenders, taking care of the plant life. Theryn, from the Suramar storyline, is enjoying his free time in the garden. The Aqueducts from which we breached the city proper are closed for maintenance, with the guards noting how much damage was done to the area. Since playable Nightborne can be Monks, Pandaren Monk trainers have arrived to train eager students in the ways of chi.
Over in Thunder Totem, the Highmountain Tauren are experiencing similar updates. The city is less changed than the Nighthold, simply because we've been using it as a small hub the entire expansion (and suddenly its having its own map makes sense). There are smaller changes, however, to bring us up to speed with the events in Legion. Bloodtotem refugees have come to Thunder Totem to be welcomed by the Highmountain Tauren as a mingling of the clans once again. When you speak with them, they note that some of their brethren are still in the wild and fel-ified. Like the Nighthold, Pandaren Monk trainers have also shown up to teach the Tauren their ways.
Events in game will also accompany these changes, which Wowhead previously datamined. If you really like spoilers, check out the datamined Nightborne and Highmountain Tauren quest events and broadcast text over on Wowhead.