Do we need more cosmetic options in WoW?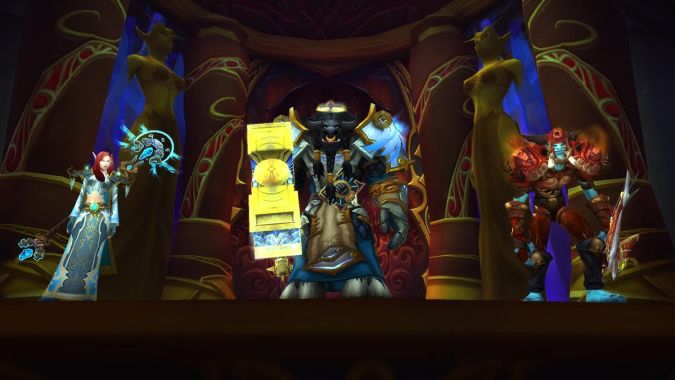 You know, the headline is probably a rhetorical question, at least for me. Anything that allows us to further customize our characters is aces in my book. Right now, cosmetic rewards seem to be one of those holiday-only things in World of Warcraft. They're something you see during special occasions, for the most part. But should there be more options out there?
Honestly, part of the reason I love Overwatch so much is because all the rewards are cosmetic. Nothing affects gameplay, rewards are just fun items to collect. You don't need Sombra's Rime skin to play her effectively. Heroes tends to follow the same line. Sure, you can get new heroes from the Loot Boxes, but you don't need a specific hero to play the game. It's just another fun option to try out.
World of Warcraft is obviously a different kind of game. You need gear to progress effectively. But you can get gear just about everywhere. Quests, dungeons, World Quests, raids, tokens — there are a number of different options available. Cosmetic items don't affect gameplay. They're just there for fun. It wouldn't really be hurting anything to add more choices, would it?
Obviously, something like an armor dye system — which I'd love to see, personally — is an overwhelmingly complicated endeavor, and probably out of reach. But I don't think that cosmetic rewards, like transmog sets, are something that needs to be holiday-only. One of the things I loved about Warlords was the ability to buy different cosmetic armor sets for your characters. I wish we'd gotten more of them — and I wish we'd get more of them in the future. Faction-based armor sets for all the assorted reputations out there in the game would be great — and it'd be just another reward players could earn while they're doing that reputation grind.
What do you guys think? Does WoW need more cosmetic rewards? Are you happy with quest or holiday rewards that are just toys or cosmetic items, or do you really want the gear? Do you think cosmetic sets should be a special occurrence, or something we see more often? What kind of faction sets would you like to see?