WoW
Jan 5, 2018 10:00 am CT
Good news! WoW's Allied Races will unlock account wide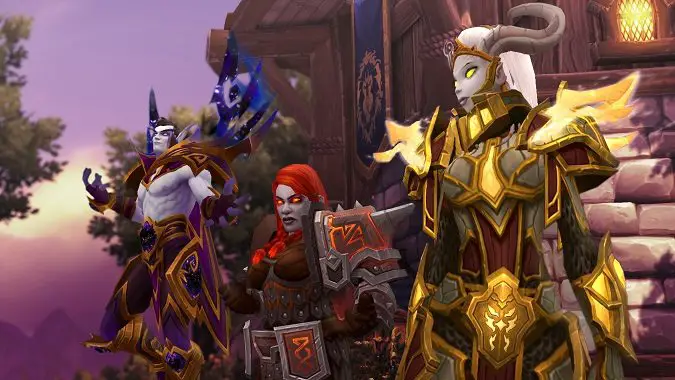 If you've been looking at the process necessary to unlock the Allied Race of your choice and worrying that it meant you'd have to dust off a character from the desired faction and do certain achievements you already have on your main, don't worry. If you're going to play Horde and want Nightborne unlocked but you've only done Good Suramaritan on your Draenei Paladin, it still counts. Allied Race unlocks are all account wide. Now all we need is for someone to find out if we'll be able to play them in patch 7.3.5 or at some other point before Battle for Azeroth goes live.
The folks over at Wowhead checked this this on the PTR: taking an account with Alliance character that had completed the achievements necessary to unlock the Nightborne and then making a fresh Hordeling who hadn't done any of it. Sure enough, the Alliance character's completion dates showed up for the Horde character, and banners in the Embassies that indicate Allied Race unlocks appeared.
Why those banners were up — they were only on the patch 7.3.5 PTR temporarily — and if they're going to be up once the patch actually drops is unknown. But while they were up you could use them to see which Allied Races you'd unlocked, letting us know that the achievements count for Horde Allied Races even if earned on an Alliance characters and vice versa. This means you could theoretically start your Void Elf at level 20 as soon as they become playable, whenever that is, as long as you've earned the proper achievements on a character and purchased Battle for Azeroth.
The fact that the banners were available on the 7.3.5 PTR definitely makes me think that the four Allied Races mentioned (Highmountain Tauren, Nightborne, Void Elves, and Lightforged Draenei) will be playable before Battle for Azeroth goes live, although I doubt they'll be available as soon as 7.3.5 itself drops. It definitely feels like they're a preorder bonus. But we at least know that if you're dying to play Nightborne or Void Elves, you don't need to roll a new Alliance or Horde character to unlock them.