Mercy's nerf parade continues in latest Overwatch PTR build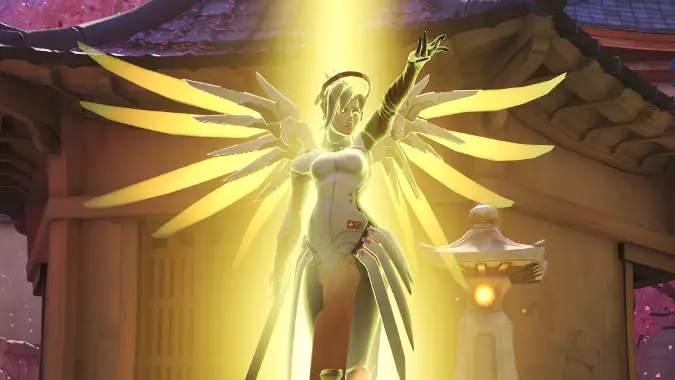 Mercy lost Mass Resurrect as her Ultimate ability all the way back in August of 2017. Since then, Mercy has received additional nerfs on an almost monthly basis. The developers changed her new ultimate's functionality, added a cast time to her Resurrect, and in the latest PTR build, they're removing significant power from the Valkyrie Ultimate they gave Mercy as a replacement for her Mass Resurrect. As of the latest Overwatch PTR build, Valkyrie no longer removes the cast time from Resurrect, no longer grants a bonus charge of Resurrect, provides less of a speed boost, and has lost five seconds of its duration.
HERO UPDATES
Junkrat
Concussion Mine

Will now deal less damage to targets farther away from the explosion's center
Developer Comments: Junkrat has been enjoying the flexibility his double-charge Concussion Mine provides, but it has now become a bit too easy to throw out huge bursts damage in a large area. With this change he can still dish out similar damage but he must now be more accurate with his tosses.
Mercy
Valkyrie

No longer makes Resurrect instant
No longer grants a bonus charge of Resurrect
The speed boost that Guardian Angel receives has been decreased by 50%
Duration reduced from 20 seconds to 15 seconds
Developer Comments: Mercy's recent Resurrect changes have helped in allowing enemies to have more counter play in dealing with her, but she was able to use Resurrect through Valkyrie enough to largely mitigate the impact of the previous changes. Additionally, we're toning back the amount of mobility Valkyrie provides through Guardian Angel and reducing its duration to overall reduce the power of this ability.
We will likely be iterating on these changes in the coming weeks.
Mercy, and Mercy players, can't seem to catch a break. Balance changes and hero reworks are one thing, but when constant iteration on a character enters its fifth month — on live servers, no less — it doesn't come at any surprise when players of that character start to get ornery. And in the forum thread where these changes were announced, that's exactly what's happening. Many posts decrying this latest round of Mercy nerfs have gathered hundreds of likes overnight, and while game design isn't design-by-community-outrage, it's indicative of the attitudes surrounding Mercy's endless rebalancing.
It's hard to do anything but commiserate with Mercy fans when they essentially need to relearn the character all over again every month like clockwork. After this much time, and these many changes, it's also hard to argue with players who feel the Overwatch developers don't know what Mercy is supposed to be or be able to do. Mercy's Mass Resurrect ultimate seems to have been removed without a clear vision of what she should bring to the table in its place. Nearly half a year later, that vision still hasn't coalesced.
Oh, and there's that Junkrat thing, too.