Which in-game Overwatch League team skin is your favorite?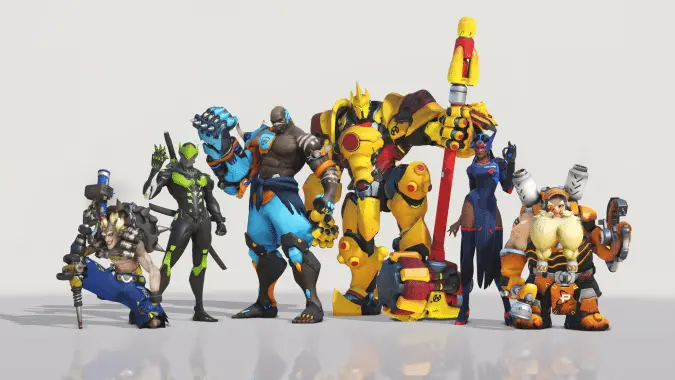 If you were on the internet at all last night, you may have heard a thing or two about the premiere of the 2018 Overwatch League matches. There was plenty of hype going into the matches, and they certainly delivered on that hype. Part of that hype involved the release of in-game skins for all 12 teams competing — skins that matched the ones used by the players themselves in the official matches.
Yes, that means there are 12 new skins for all 26 heroes — or 312 new skins in total. It's an impressive array of options, and it's also just plain a super cool thing to see Blizzard do as a way of getting players excited for the matches and a particular team. But it's also… well, it's not cheap if you're a completionist.
Sure, one skin is $4.99 — which isn't bad for in-game cosmetics — but the total cost for every single skin will run you ~$1,200. Because of this, I don't expect anyone besides perhaps single engineers to even contemplate buying all of the skins — and I don't think Blizzard expects otherwise, either.
Which is precisely why they've given everyone 100 free Overwatch League Tokens — the exact amount needed to purchase a single skin. As such, anyone interested in a skin will have to make a tough choice: What skin of all 312 is best? I mean, sure, okay, you can always find a small handful you like and spend a bit of money. But for the sake of this post, let's assume you don't want to spend any money. What then?
For me, I'm torn between the Houston Outlaw Reaper skin and the Los Angeles Gladiators McCree skin. Both have great color palettes that work equally great on those two heroes. And while Reaper is someone I play more often, I'm almost leaning toward McCree because I don't want to give up my Pumpkin Reaper skin. I have plenty of time to decide, but I'm open to being swayed.
How about all of you? Which skin is your favorite of all the skins? And heck, I guess we can also discuss your favorite overall team skin while we're at it. Check out our entire collection of the Overwatch League team skins and then sound off below!