WoW
Jan 16, 2018 6:00 pm CT
Patch 7.3.5 introduces legendary item token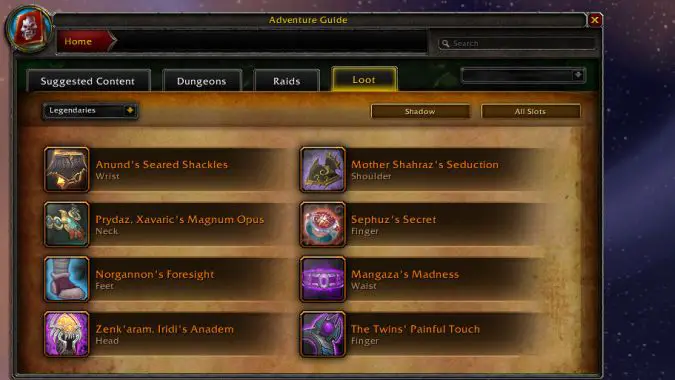 Update: With the patch due out today on North American realms, we thought you might want a refresher of patch highlights.
Not too long ago, legendary tokens appeared on World of Warcraft's patch 7.3.5 PTR. These tokens cost Wakening Essences and reward a random legendary item for your character's current spec. On top of that, the tokens do not affect the "bad luck protection system" for legendaries that are earned through other methods. In other words, patch 7.3.5 will be introducing a way to reliably farm legendaries using a currency that's already in the game.
Hi all!
Today's PTR update includes a new method for acquiring Legendary items: the Purified Titan Essence. This item can be purchased from Arcanomancer Vridiel in Dalaran in exchange for 175 Wakening Essences.
When used, the Purified Titan Essence will immediately grant a Legion Legendary item appropriate for your specialization. Note that this item is bind on pickup, and that the Legendary item granted by the Purified Titan Essence does not affect your chance to earn a Legendary through other methods.
Additionally, the Awoken Titan Essence used to upgrade Legendary items to item level 1000 is now sold by Arcanomancer Vridiel as a vendor item, rather than as a quest reward, for the same total cost (50 Wakening Essences). The quest will no longer be offered, but can be turned in if your character already has it active.
While many players were excited about this — given the headache that the RNG-heavy legendary system has caused — there were also concerns raised. Most of these were related to the fact that Wakening Essences can be farmed right now, but you needed at least one legendary to start the quest that caused them to drop. Because of this, players without any legendaries were buying the BOE legendary items on the Auction House purely to start farming Wakening Essences.
Similarly, some players were delaying upgrading existing legendary items in favor of a chance at better ones when the patch dropped. However, there were concerns that Blizzard would reset Wakening Essence counts — or change the currency altogether — thus making the stockpiling pointless. Thankfully, Lore hopped on the forums to clarify all of the above and then some.
A few additional details on the new legendary token:
We've just pushed a hotfix live that makes Wakening Essences drop for everyone, regardless of whether you're on the quest or not.
We'll also be dramatically increasing both the number of Essences required to purchase tokens and the rate at which you gain them in Patch 7.3.5. The overall time investment needed to purchase a token will stay roughly the same, but this will minimize the benefits of stockpiling Essences ahead of time.

Note: Emissary bags earned prior to the release of 7.3.5 will still give pre-7.3.5 numbers of Essences. There is no benefit to saving Emissary bags until afer the patch.

We also plan to add Wakening Essences to your first Battleground win of the day in 7.3.5.
The tokens are bind-on-pickup, because we don't want to overly encourage players to farm Essences on alt characters in order to feed legendary items to their mains. However, if you purchase and use a token on a character that already has all of the available legendaries for their class, you will be given a random BoA token for another class.
What all of the above essentially means is that you can continue playing the game as you would have played before the legendary tokens were ever introduced on the PTR. You don't need to buy legendary items off the Auction House to farm Essences on alts, and you (mostly) don't need to worry about the effect stockpiling them before the patch will have. On top of that — and not too surprisingly — you don't need to stockpile Emissary bags either.
Overall, I give kudos to Blizzard for addressing all of these issues and heading off some of the concerns these changes might have caused. Granted, I'm not super picky, so maybe there's something I'm missing here that will still give some folks pause. What say you, readers?