WoW
Jan 16, 2018 5:00 pm CT
Patch 7.3.5's Seething Shore battleground offers a lush environment and dynamic PVP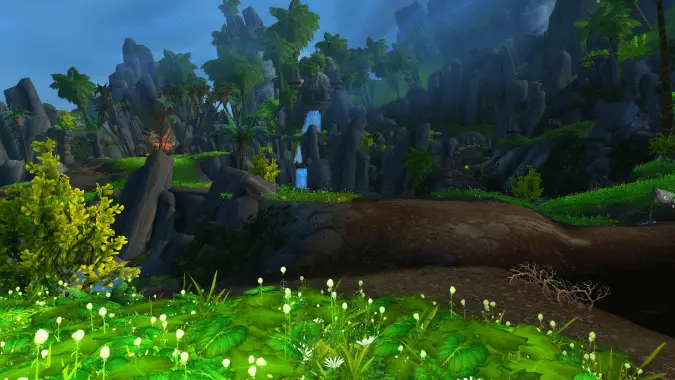 Update: With the patch due out today on North American realms, we thought you might want a refresher of patch highlights.
While World of Warcraft's upcoming patch 7.3.5 isn't a "major" patch in Blizzard's eyes, it's still plenty full of new things for players. One of those things is a brand-spankin'-new battleground called the Seething Shore. Set off the western coast of Silithus, the battleground is meant as a tie-in to the story events leading up to Battle for Azeroth.
Horde and Alliance players will be fighting over Azerite, the lifeblood of Azeroth, which has been pouring forth ever since Sargeras did his whole stabby-boi routine. Even if PVP isn't your thing, I still recommend checking out Wowhead's Seething Shore overview. Having been marketed as a Silithus-tied battleground, I expected something entirely different than what we're getting — turns out, the battleground is lush with life.
It reminds me a lot of Kazan or the Isle of Giants, which are some of my favorite zones, aesthetically speaking. And if you still don't know what I'm talking about, Wowhead has a nice environmental preview to give you a thorough visual of the landscape:
Gameplay-wise, the Seething Shore shakes things up a bit from your usual battleground fare. It's a bit like Arathi Basin in that you have capture points — the Azerite deposits — but where Arathi Basin has stationary capture points that can be gained and lost, the Seething Shore has dynamic points. What's more, the Azerite deposits seem to disappear after a single channel — you need to claim them fast if you want to win.
You may be in the middle of capturing one deposit when another pops up. Is it close enough to members of your team to make an effort to claim it? Or is it smarter to keep your numbers alive and grouped for the deposit that will pop up after it? That'll be up to your team, but it definitely gives the battleground a more dynamic feel than other capture-point battlegrounds where you need to stick around defending after the point's been taken.
If you're interested in testing the Seething Shore, it's currently on the 7.3.5 PTR — however, the queue times are… less than desirable. In the meantime, Wowhead also has a gameplay preview video to help hold you over. Sadly, the beautiful environment is limited to the battleground instance itself — you'll find no trace of the island on Kalimdor.