WoW
Jan 23, 2018 2:00 pm CT
Satiate your collection impulse, risk sanity with the ALL THE THINGS addon for WoW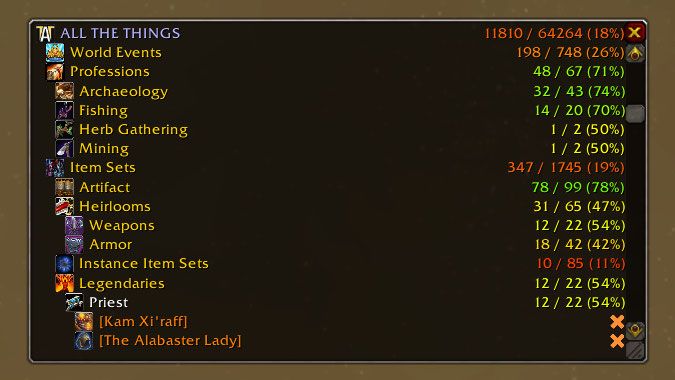 World of Warcraft has been around for a long time — over 13 years at this point. It's natural that the game's library of collectibles has only continued to grow, and it's also natural that collectors have probably missed a few things along the way. But if you're a collector, you might not be aware of just how much you've missed. That is, until now… well, technically last May, but that's beside the point.
Anyhow, the addon "ALL THE THINGS" is designed to keep track of exactly what it says it will: all the things. And while some other addons might exaggerate when it comes to this sort of thing, this one's the real deal. It's perfectly customizable (so you can track only some of the things rather than all of them), with options to display everything down to individual armor appearances, recipes, and titles. The armor alone can be… daunting: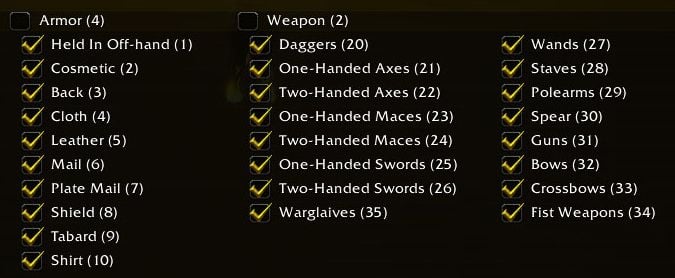 One of the nice parts about the addon — outside of letting you track only what you want it to track — is that it automatically loads missing collectibles by zone. So, say you're flying through Eastern Kingdoms and you're traveling from Hinterlands down to Twilight Highlands. When you pass through Arathi, you might see the Arathi Basin faction tabard appear on your list but disappear when you enter the Wetlands, only to be replaced by the Crimson Whelpling zone drop. When you finally make it to Twilight Highlands, the Whelpling will disappear and you'll see the Dragonmaw tabard and whatever quests you may have skipped.
Granted, the above is assuming you have certain presets selected to be tracked, but all the same — it's quick to adjust based on where you are. However, like I said above, it can be a bit daunting. In addition to everything you can track in terms of armor, here are all the other trackables that you can toggle on or off: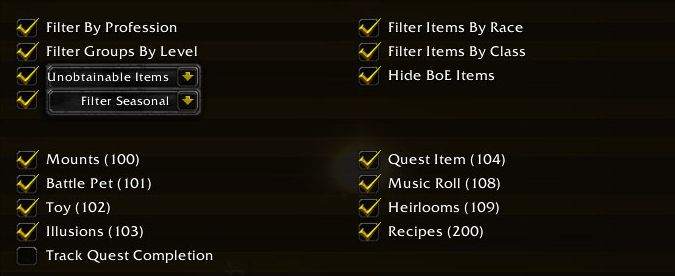 The burden of knowledge
Just seeing those screenshots above doesn't do justice to the amount of stuff you'll realize you're missing, though. If you can't tell from the article's header image, I apparently am only at 11,810 out of 64,264 collectibles in the game — and I've been collecting things for a really long time. Are the ~53,000 things I'm missing actually stuff I care about? Probably not.
It's still the sort of addon that can easily drive a person insane, though. It gives players the burden of knowledge. Happily flying through a zone, content to just laze your way through? Wait, what's that? You're actually missing 4 things from that area? Okay, I guess it won't take too long to collect. Finished that, ready to relax again? Off on your way, back to mindlessly– wait, you're missing stuff from here, too?! Do you stop to farm again, or do you move on knowing something is incomplete?
I think you get where I'm going with this. I know people will run with the addon disabled unless they're specifically after something. Others will disable nearly all trackables except, say, Toys. Whatever the case, it's a great addon for collectors — but be warned, it may drive you mildly insane.