News
Jan 24, 2018 4:00 pm CT
The secret origin of the Orc statue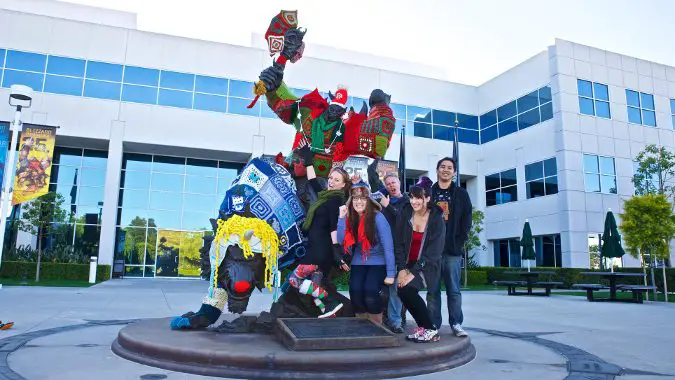 It's become synonymous with Blizzard, but have you ever really thought about how that big Orc statue at Blizzard Entertainment got there? Blizzard's laid out the origin of the most famous bronze Orc ever, and it's got more globetrotting cred than I would have expected. Maybe I shouldn't be surprised. I mean, the Orcs went from Draenor to Azeroth, they're noted travelers.
The original statue design by noted Blizzard stars Nick Carpenter (Now of Bonfire Studios), Samwise Didier, and Glenn Rane was for a 12 inch statue. To scale that up to 12 feet, Blizzard turned to Weta Workshop in New Zealand. You may have heard of them. They're somewhat famous for a completely different group of Orcs they helped bring to life. Weta Workshop scanned the original statuette and scaled it up to its current size in a brand new 3D model. It was then used by WETA limited to manufacture the actual statue in two pieces for shipping from China.
I've never really thought about how the statue got there, to be honest. I've never actually been to Irvine or seen the physical reality of the 12 foot tall Orc riding on a Wolf outside a modern building. The paradoxical tangibility of something so inherently unreal isn't something I've had to actually confront. But reading about the process makes it real to me in a way that's satisfying. Reading details like the fact that the metal is high copper bronze which means the raw metal is salmon in color, or that it was shipped in two pieces and constructed on site are simultaneously groundingly mundane and visceral.
Someday I'll get to go to the campus and see it for myself, but for now I can read about it. It certainly traveled a lot further to get there than I'll have to.