WoW
Feb 2, 2018 4:00 pm CT
You can now get your own stylish Doomsayer's Robes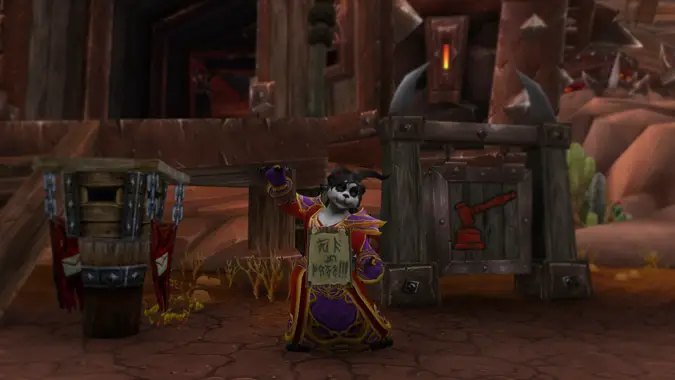 Blizzard's been a fan of hiding cool new things this expansion, and patch 7.3.5 has been no exception. In addition to the wacky mailroom adventure, the latest patch also added Doomsayer's Robes to the game. This new toy allows players to take on the guise of a Doomsayer for 10 minutes, with a one hour cooldown. Although added, nobody really knew where to get the thing — its location was a mystery. Luckily, Wowhead reported that the WoW General Secret Finding Discord managed to track it down. Getting your hands on the item doesn't involve heading to Silithus — instead, it involves an excursion into enemy territory.
The Secret Finding Discord reported that the robes drop from Orgrimmar and Stormwind guards. Thankfully, there are two NPCs in particular that have a higher chance of dropping the item. Alliance players need to head to Orgrimmar and track down Undercity Vendor Charles Gastly. For Horde players, it's a trip to Stormwind and a visit to Assistant Confetti Cannon Operator Gordon MacKellar that will reveal the robes. Each NPC has a 5-10 minute respawn, which isn't too long to wait. However, they're also deep in city guard territory. You're going to have to put up a small fight to get them down and get out in one piece. Add that on top of the auto-flag from being in an enemy city, and you'll find the robes a suitable challenge to obtain.
Why these particular NPCs? Who knows! That's part of the fun. But the Doomsayers have had a fairly lengthy presence in-game. Their first appearance was during the Elemental Unrest event prior to Cataclysm. In the now-obsolete quest chain, players had to infiltrate the Doomsday Cult. This involved pilfering a set of Recruit's Robes, and slapping on a board with a Doomsday Message. In an odd glitch, the board stuck around for some players even after Cataclysm was launched. But over time and many patches, the cult's sandwich boards have slowly disappeared.
Maybe Charles and Gordon were a part of that initial Doomsday Cult from back in the day. Or maybe they were part of the Doomsayers that infiltrated the capital cities prior to Legion. The latter seems more likely, as the combination of robes and sandwich board matches those NPCs in particular. Or maybe they were part of both, and kept the robes in the event that they were needed again. I mean, it's almost inevitable at this point, isn't it? Honestly though, both NPCs were added in patch 7.3.5 — so really they're just loot pinatas. But hey, we can always imagine, can't we? For more information on where to find these elusive NPCs, be sure to check out Wowhead.