Will you main a pure DPS class in Battle for Azeroth?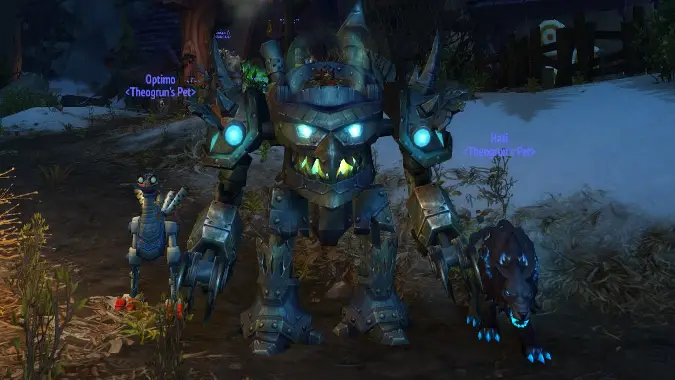 As Alpha gets going my guild has started making our plans for the expansion. This provides an ideal time for players to change their class, spec, and role for the upcoming expansion. I've considered my options and I'm intrigued by the changes to the Survival Hunter spec.
I was not a fan of the spec becoming melee in Legion. People who rolled a Hunter did so on the basis of it being ranged DPS. The game already had too much melee and didn't need another. In Alpha, the Survival Hunter is a ranged and melee hybrid. The new design also throws bombs and uses gadgets. I could see making a Gnome Hunter, taming a couple of mechanic pets, flying around in my Sky Golem and coming close to my long-desired Tinker class. (The biggest issue I would have is that Hunter is a pure DPS class. I wanted Tinkers to have a tanking spec as well.)
For the majority of my World of Warcraft playtime, I've been a Paladin. I've always had the option to switch from DPS to healing or tanking. In Legion, I felt more locked into one spec due to the Artifact and Legendary system, but those systems are going away. In their place, we'll have the character-wide Heart of Azeroth system. Combined with the ability to have three specs in Legion and the associated UI changes, Battle seems to offer few incentives to play a class not capable of filling multiple roles.
The Hunter would be great leveling up and doing World Quests, but the first time my guild calls a raid because we don't have enough tanks or healers, I'm going to feel like a made a mistake not going with a class capable of filling those roles as well as DPSing. Then there's the queue blues I hear about from pure DPS players. For those of you who intend on making a pure DPS class your main toon in Battle, what are the reasons behind your choice. Is it simply a love of the class? Do you have an aversion to the support roles? Do you deal with subtle (or not so subtle) peer pressure to switch to a hybrid class?