Widowmaker Figma now available for pre-order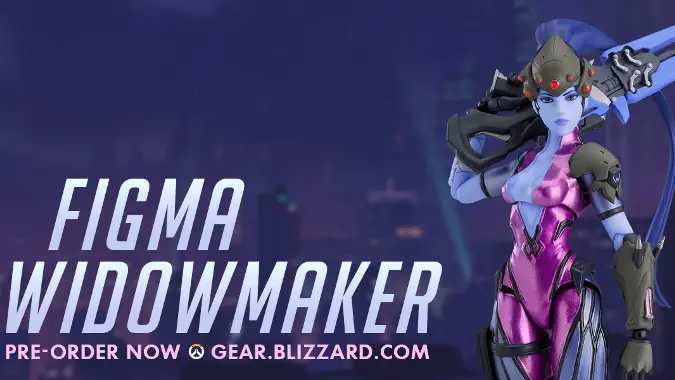 A Widowmaker Figma is the latest addition to the evergrowing roster of Overwatch figures and figurines. The $80 figure is currently available for pre-order on the Blizzard Gear store with an expected release of Q4 2018.
"One shot, one kill."
From the globally popular multiplayer first-person shooter Overwatch® comes a figma of Widowmaker!
The smooth yet posable figma joints allow you to act out a variety of different scenes.
A flexible plastic is used in specific areas, allowing proportions to be kept without compromising posability.
She comes with both a standard glaring face plate as well as an aiming face plate looking through her scope.
Widowmaker comes with both her Widow's Kiss sniper rifle as well as a venom mine part.
The Widow's Kiss comes with interchangeable parts to switch between sniper mode and fully-automatic mode.
A grappling hook part as well as alternate left arm firing the hook are included, and a wire is also included with the hook.
She also comes with a closed version of her recon visor to pose her making use of Infra-sight.
Also included is an articulated figma stand to facilitate various exciting poses.
Figma Widowmaker is made of painted ABS and PVC and is approximately 160mm in height.
Figure will ship by the end of Q4 2018. Applicable taxes and duties will apply. Please review our shipping policy.
Personally, I prefer figurines without articulation — I'm far too old to actually play with these things, so they're mostly something pretty to put up on a shelf. When viewing them as decor, that line of articulation that cuts Widowmaker's torso in half is unpleasant at best. Admittedly, though, Widowmaker's store page shows a few cool poses that wouldn't be possible without that articulation. Her grappling hook accessory, combined with the articulated stand, allows a recreation of some of her best highlight/intro animations: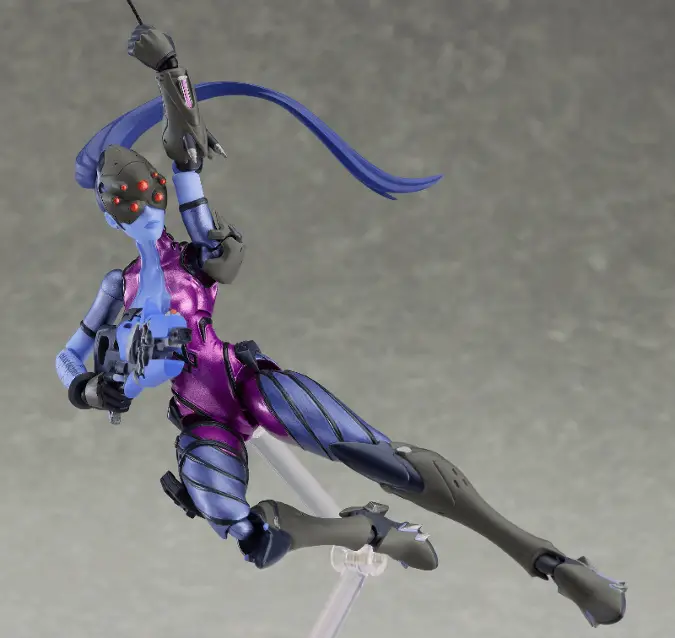 Considering the sheer popularity of the Figma line of figurines, they must be doing something right, regardless of my opinions on their articulation. And given the wide range of Overwatch fans, it's entirely possible there are people who will treat this as a toy rather than a glorified statue.
The Figma line already offers Tracer and Genji. The Good Smile Company, the manufacturer behind the Figma figurines, also produces the Nendoroid line of figurines. The Overwatch nendoroid line so far includes D.Va, Tracer, Mei, Mercy, Genji, and Hanzo.