Hearthstone Ranked Play is disabled until bugs can be fixed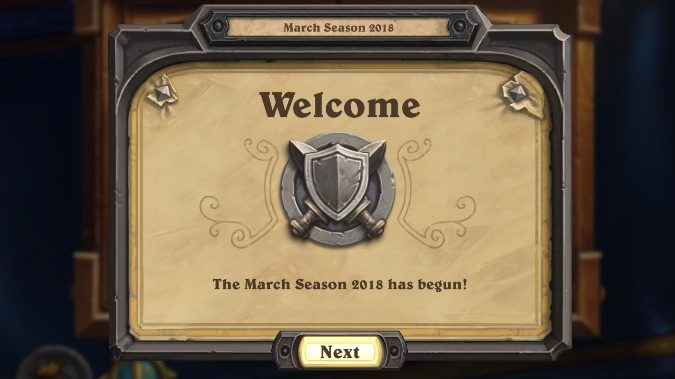 Well, this is a first. This month's Hearthstone Season was supposed to roll out changes in Ranked Play designed to even out the monthly leveling grind for everyone. Instead, Ranked Play has been disabled entirely while some bugs are worked out. Blizzard is being a little cagey on what the problem is, only referring to it as an "issue with Ranked Play progression." However, when you log in for the first time today, you may see some oddities: personally, my February rank was reported incorrectly and I received no rewards for my completely amazing rank 15 performance. (Hey, it's the best I can do, okay?)
Fortunately, Blizzard has identified the issue and is working on a fix, which will hopefully roll out soon — so I can get back to rank 15, of course.
We have identified the cause of the issues with Ranked Play progression, and are working on a resolution. While we continue to work on this, Ranked Play will be in extended maintenance. We will continue to update this thread with information as it becomes available.
There's no word on when ranked play will return, but when it does it should be a bit easier for all of us. At the beginning of each season, everyone will only be set back four ranks, so lower ranked players won't have to stumble through fights with the best of the best while those high level players climb the ranks again.
And to smooth out the leveling curve, each rank will require five stars to advance. Previously, lower ranks required three. While this will mean you need more wins to advance through the lower ranks, the players you're fighting are more likely to be of similar skill level, so you'll wind up with fewer frustrating fights.
If you're only in it for the card backs, good news. Instead of hitting rank 20 (which will now take more wins if you're starting from scratch), you only need to win five games — that's fewer wins — to get your Season Chest and card back.
In short, the new Ranked Play setup should offer something for everyone… assuming it shows up in the game. In the meanwhile, watch this forum thread for updates and, hey, maybe play some Dungeon Runs.