WoW
Mar 6, 2018 1:00 pm CT
Latest WoW hotfixes nerf the best parts of Seething Shore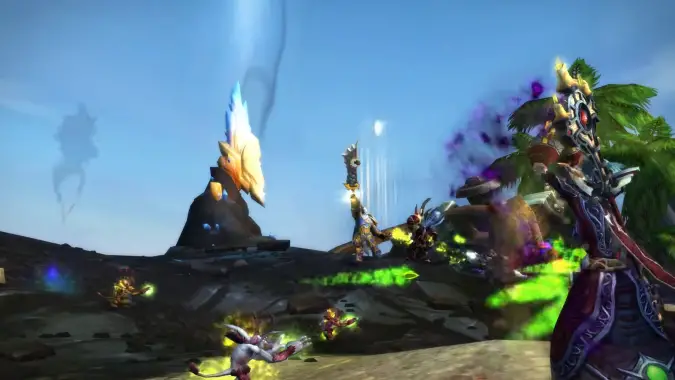 Last week, Seething Shore made its pseudo-premiere in World of Warcraft, thanks to being available for a week as a "preview Brawl." Now, the battleground is officially part of the standard pool of random-queue options, but with a couple of adjustments. Namely, everything I loved about the battleground appears to have been nerfed — although one achievement was made much more reasonable in the process.
Admittedly, I knew the battleground's incredible Honor gains wouldn't last. They were just too good and too lucrative, especially when compared to other battlegrounds' Honor gains. But I honestly didn't expect anyone to take issue with Seething Shore's pace. It was chaotic and fast paced, and both of those are precisely what made it feel so fun. It felt to me like a new paradigm for battlegrounds… so you can see why I might be disappointed at the changes below.
I'll talk more about the Seething Shore after the full hotfix notes — which also include bug fixes for Court of Stars, a quest, and Allied Races — but for now, take a look and form your own opinions:
March 6, 2018
Dungeons and Raids
Court of Stars

Watchful Inquisitors should no longer cast Searing Glare while stunned.
Player versus Player
Seething Shore

Seething Shore is now in the Random Battleground queue, starting at level 110.
Mining an Azerite Node now awards 20 Honor (was 40 Honor).
The A Good Start achievement now requires 25,000 Azerite (was 100,000 Azerite).
The Blood and Sand achievement now displays correctly when linked in chat.
The "Thrust" effect from the Rocket Parachute now has 4 charges (was 2 charges), allowing players to reach further areas when jumping from the airship.
The geyser period of Azerite nodes is now extended to 30 seconds (was 20 seconds). This will give players more time to reach spawning Azerite nodes.
The respawn time at the graveyard is now 20 seconds (was 15 seconds).
The time to cap an Azerite node is increased to 7 seconds (was 6 seconds).

Developers' notes: We'd like to thank you for all your feedback on this new Battleground. The adjustments above should alleviate some of its pacing issues, as well as bring its most-arduous achievement more in line with other battleground achievements.
Quests
Lord Maxwell Tyrosus is now reliably available during "Walking in Shadows".
Toys
The Jolly Roger appears as expected on Allied Races.
Now that you've read those over, allow me to get on a soapbox and rant a little bit about Seething Shore. For starters, my issues with the battleground were almost purely UI based. After a quick test run of the battleground, it looks like none of them were addressed.
Secondly, I get that the Honor gains were way too high before. Heck, I managed to go from Prestige 3, Rank 37 to Prestige 4, Rank 17 without even putting in a whole lot of effort. The Honor needed to be nerfed before it went live as an official battleground.
But if Blizzard wanted to nerf the pace of the battleground, I think they should have considered an entirely different approach altogether. Perhaps I was alone in enjoying the pace, given the developers' note, but non-stop action is what made Seething Shore feel so unique. If having a battleground that was that fast was an issue, why not consider keeping it a Brawl?
After all, Southshore vs. Terran Mill is a well-loved battleground but is kept as a Brawl to keep it from going stale. The changes to Seething Shore feel equivalent to putting Southshore vs. Terran Mill in the regular rotation, but nerfing the total number of players to 10 per faction. It misses the point of what made it stand out.
Furthermore, if pacing is enough of a concern that a battleground which is too fast has to be slowed down, why are longer battlegrounds like Alterac Valley or Isle of Conquest still part of the rotation? They can be significantly longer than any of the other battlegrounds, but no changes have been made in that regard.
I don't know. I'm sure Seething Shore is still going to be a ton of fun, and it'll still be a fairly fast-paced battleground. It's just disappointing to fall in love with the place after less than a week, only to see its most enjoyable aspects toned down. Fare thee well, Seething Shore: Brawl Edition, I hardly knew ye.