Hearthstone patch 10.4 brings Arena updates and Witchwood pre-orders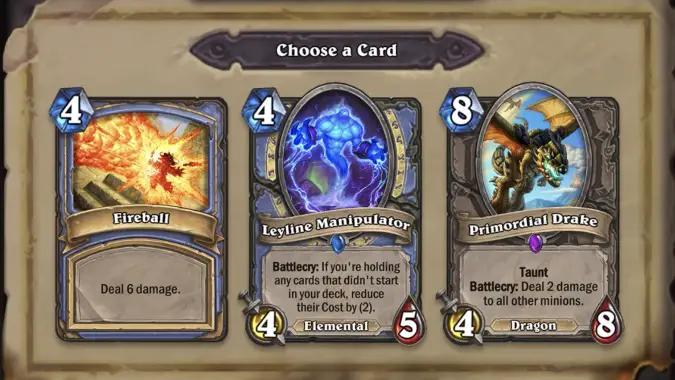 Dang, Hearthstone team. Can't you space the news announcements out? Just after telling us all about the Witchwood expansion (due out by the end of April), a new Hearthstone patch appeared.
With it come the Arena adjustments Lead Systems Designer Kris Zierhut told us about last week. So in your next Arena run, the cards you pick from every draft round should be a bit more balanced. Instead of getting a selection of two lousy cards and one good card, the Arena should offer you a tough choice. The cards you see may not all be the same quality, as they were before, but now they should have the same power level. Hopefully that means Arena decks will be more fun to build and more fun to play… but at the same time, it's unclear just how "power level" will be determined. I have to wonder if you'll still wind up with lousy cards, except now they'll be lousy cards of an assortment of rarities. We'll have to do a few Arena runs to find out.
One thing that's sure to shake up Arena play is the addition of new Arena-only cards that were selected by BlizzCon crowds. That's right: each of these cards was picked out based on cheer volume. That sounds totally balanced to me.We haven't had any Arena-only cards before, so this could be interesting.
And since today was Witchwood day, Witchwood pre-orders are live. If you pre-order, you'll get a spooooooky new card back and 70 expansion packs for $50. That's a lot of cards and at $0.71 per pack, it's the best pre-order deal Blizzard has ever offered. If you'll be playing (and you can afford it), it's a good buy.
Check out the full patch notes for details:
The Witchwood
Prepare to join brave heroes as they embark on a hunt for the source of an eerie curse in Hearthstone's newest expansion. Read the official blog for more details!
Pre-purchase now to receive 50 The Witchwood card packs. You'll also receive the In a Dark Wood card back and 20 more The Witchwood card packs as a bonus! Use your new card back right away, and you can look forward to opening 70 card packs once the expansion arrives!
New Year Party!
We've prepared a special event for you to celebrate the upcoming Year of the Raven! More details to come soon!
Arena Updates
We're trying out a new Arena format to make choosing cards more interesting and skill testing.

New Draft Rules: Each pick in an Arena draft will now feature 3 cards of relatively equal power level, but mixed rarities.
Picks 1, 10, 20, and 30 will continue to have a guaranteed Rare quality card or better.
The increased chance to draft cards from the most recent expansion has been removed until the launch of The Witchwood.
New Arena cards chosen at BlizzCon are being added to the Arena for a limited time.
All cards that are excluded from the Arena draft pool remain unchanged.
All the other existing Arena rules in place that affect appearance rates are unchanged.
Hearthstone now loads faster on many devices.
Fixed several minor UI and visual issues.
Players can now create Blizzard Battle.net accounts via Facebook.
Rakanishu now correctly displays in history during the King Togwaggle Dungeon Run encounter.
[Mobile] Alternate Heroes that you do not own should now display their names in the Collection Manager.
[iOS] Due to changes in iTunes, it will no longer be possible to purchase one-time only items for multiple Blizzard accounts from a single iTunes log in. Each account holder must log into iTunes separately to make those purchases.
[iOS] Older iOS devices are now more stable when changing menus.