What "minor" adjustment absolutely needs to be made in Battle for Azeroth?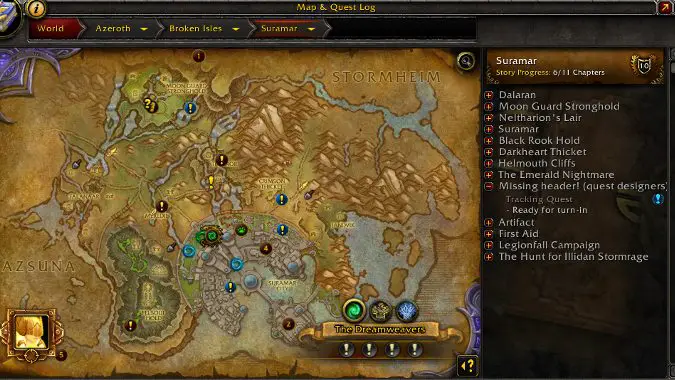 I cannot stand the quest log in World of Warcraft. For starters, the recent leveling changes mean there are few moments when I actually out-level quests to the point of having to drop them. This normally wouldn't be an issue but, for who knows what reason, there's still a 25-quest limit in the Quest Log. Except, not every single quest actually counts as one of those. Oh, and also, there's no easy way to tell what quests do count and which don't, or how far over 25 you actually are.
And you know what else?!
You have to abandon quests one. by. freaking. one. Do you have any idea what I would give for a baseline checkbox that allowed us to abandon multiple quests at once? A whole freaking lot. With all the updates the game goes through on a regular basis — both with an expansion and via the regularly scheduled patches — it's weird to deal with a Quest Log that feels so behind the times.
Now, I realize programming is complicated and there's probably a lot of technical hurdles in the way that put an improved Quest Log on the back burner. But holy heck, do I ever explode in a seething hot rage when I see "Your Quest Log is full." That rage only magnifies when I delete a quest only to discover it didn't "count," and my Quest Log is still "full."
Look, there's not much in the game that sets me off, but of the things that do, the weird inner-workings of the Quest Log are chief among them. So if I could pick one thing to be updated before Battle for Azeroth? Quest Log, hands down.
What about all of you? Is there something that doesn't break that game but does break your soul? What seemingly inconsequential pet peeve do you want eradicated before the next WoW expansion?