WoW
Apr 9, 2018 8:00 am CT
What do you think of the Battle for Azeroth Collector's Edition?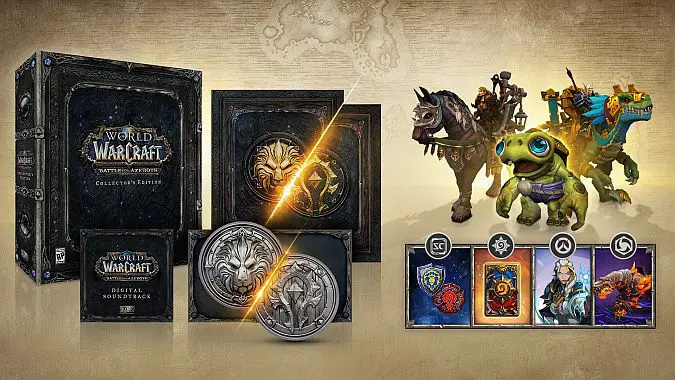 Blizzard announced what players could find in the Battle for Azeroth physical Collector's Edition last week. They're switching things up this time around, replacing the customary art book with a novella — two books in one, really. Along with the novella, players also get a fancy Alliance/Horde emblem to display. And of course it comes with all the customary digital bonuses as well. Oddly, the reaction to all the goodies seems to be mixed so far.
I do have to admit, I'm a little sad we aren't getting an art book. I like seeing all the concept art, it's usually a collection of really stunning pieces. Hopefully, Blizzard will make the concept art available somewhere online. But hey, at the same time, we're getting not one but two novellas, which is a fair trade-off as far as I'm concerned. I think it's the lack of a mousepad that I'm finding disappointing, honestly — and yes, I know just how silly that sounds. But typically speaking, getting a new Collector's Edition is also my reminder to swap out my mousepad. The key art for Battle for Azeroth is really pretty. I was hoping we'd get a physical version of it, so I could have something besides Illidan's face to run my mouse over.
This is the first time a WoW Collector's Edition hasn't come with an art book or a mousepad. But it's also the first time we've gotten a novella, and a hefty artsy display piece. What do you guys think of the Battle for Azeroth Collector's Edition? Is the trade-off worth it? Are you happy with what's in the physical CE? Do you think the hardcover story book is better than an art book? Are you cool with a missing mousepad, considering the hefty double-sided coin included in the package? Will you be picking up the physical CE, sticking with Digital Deluxe, or just picking up the game sans-bonuses?