WoW
Apr 20, 2018 10:26 am CT
First look at in-game communities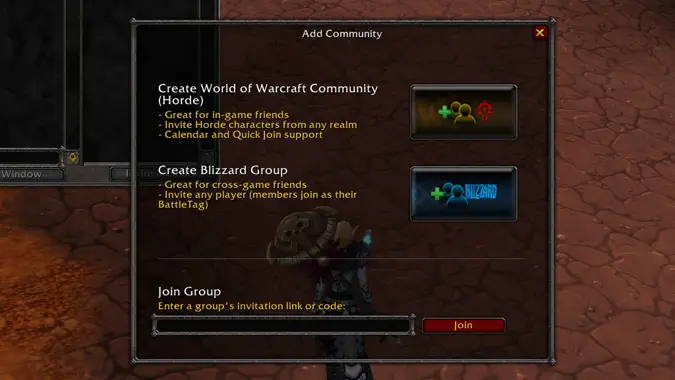 Global strings for in-game communities were added in a recent alpha build, along with very limited functionality of the system. We first heard about the new communities last year at BlizzCon.  Communities are a feature intended to update our social connections and lessen the divide between realms and games. With cross-realm play across nearly every facet of the game except cutting edge Mythic raiding, an update to WoW's social side has been a long time coming.
There are two options when creating a community: World of Warcraft Community and Blizzard Group. The WoW Community allows you to invite any characters of your same faction on any realm. You also get support for calendar events and Quick Join. It's basically as if all guilds were cross-realm. Blizzard Group, on the other hand, invites people via their BattleTags. This is intended for playing and keeping a community connected across Blizzard's various games.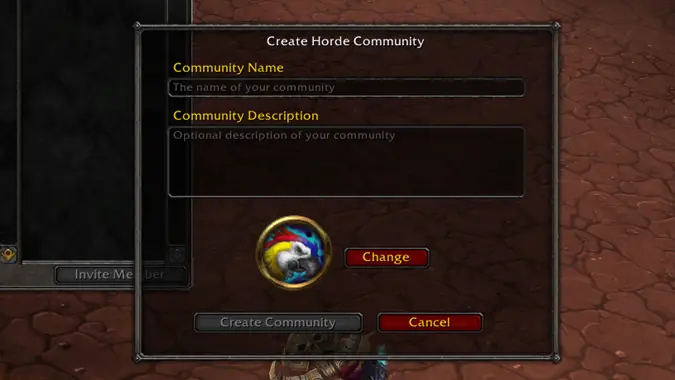 Getting started
When creating a community, you decide your community's name, description, and avatar. The avatar options are just WoW icons. Right now, the UI looks like it was pulled straight out of the macro icon selection. It very well may have been — it's just a long list of icons with no way to search or filter a specific one. On my first attempt, I was able to see all the icons, but I could not choose a different one. On further attempts, the icon list was blank.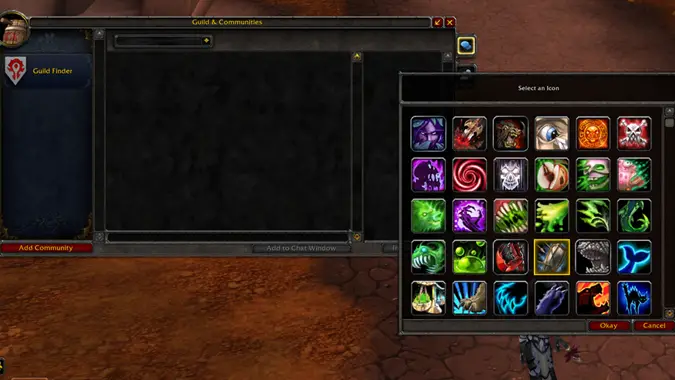 There's a "Join Group" option available. Once your community is created, you may be able to get a link or code for your members to automatically join. Currently, the Guild Finder option in the UI for unguilded players still brings up the current Guild Finder. Of course, it's pretty severely outdated. It's unclear whether they intend to keep using that or create a new one. It also appears that a guild is still separate from a community. At the moment, anyone can create a community in the interface. However, the UI directs players to the Guild Master NPC in order to create a guild. However, when the expansion goes live, your current guild will also be a community.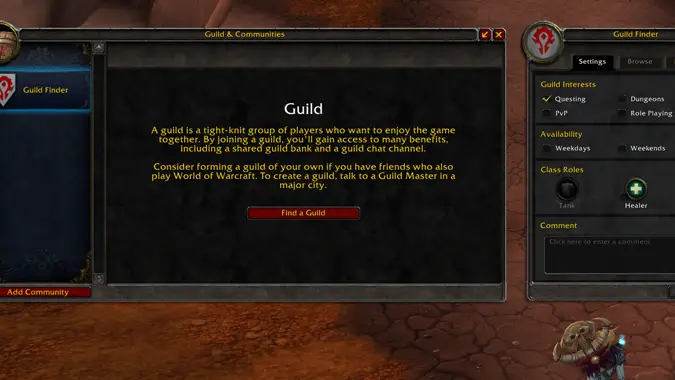 Crafting communities
On one hand, having cross-server communities kind of muddies the idea of a guild. On the other, community creators control who they invite, so it's up to players to curate the kind of community they want. It's also a great way to keep guildmates together when they're playing on other servers but still want to stay in contact. And it's also a way to link sister-guilds without having to download the various guild chat extender addons to keep everyone connected.
We learned at BlizzCon that in-game communities will also support voice chat and chat text history. This includes all guild chat, which will be great to see what you missed, but also means you can't talk smack about people when they're not online. You'll also be able to join as many communities as you want on your character so that you can stay informed with your guild, your friend's guild, your friend groups, and any other groups you want to join. Unfortunately, only the base community interface is working right now, but nothing beyond that. While you can bring up the option to create a WoW Community or Blizzard Group, the function doesn't actually work or go through for either type. This is only the first iteration on alpha though, so we can expect to see more in future builds.