WoW
May 2, 2018 2:00 pm CT
Packrats rejoice — yes, you can get bigger bags in Battle for Azeroth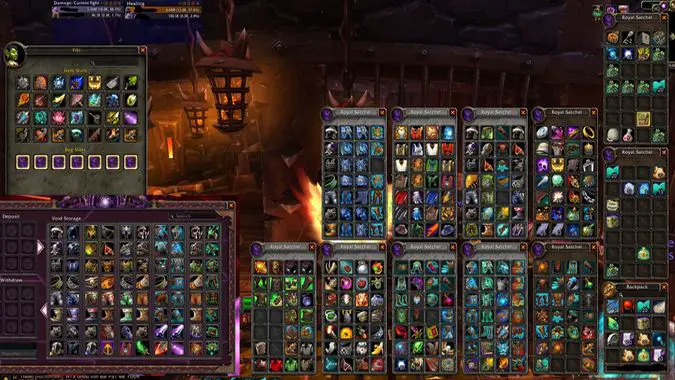 Our voracious hunger for larger and larger bags is the true villain of every World of Warcraft expansion. It doesn't matter how titanic our bags become. It doesn't matter how they yawn like chasms, impossibly vast and deep. We fill them until they are swollen with our possessions, and we clamor for more. Bigger bags, we scream, huge and cavernous so that we may pile yet more within them. And Battle for Azeroth has the impossibly enormous bags you crave, crazed packrats of Azeroth.
For starters, there are two new bags available through new reputations. The Pack of Many Pockets comes from the Voldunai, those impossibly adorable fox folks we're all desperate to find out will become an Allied Race. You get this handsome 31 slot bag by reaching Revered reputation with them. This kind of makes me sad because the other bag gained via reputation is the Admiralty Marine's Duffel. It's almost certainly going to be an Alliance only item because it requires Revered with the Proudmoore Admiralty. This tells me that the Voldunai will therefore likely be a Horde exclusive faction.
However, if you're a tailor staring at these bags balefully, fret not. You can make an even bigger bag! Although it's only a little bigger. The Embroidered Deep Sea Bag is a 32 slot bag. This means that unlike the previous bags, it won't have a dead space at the top row of the bag's slots. Based on the Wowhead comments, this is apparently a very important fact. I feel strange that I have literally never noticed this kind of thing before. Still, it's a new bag, you can craft it, and I suspect you'll make quite a bit of change on the AH selling them so people can finally have all their squares when they open their bags. I look forward to filling these larger bags with junk and then complaining that I am out of space.