Free-for-all Deathmatch mode hits Overwatch for 2018 anniversary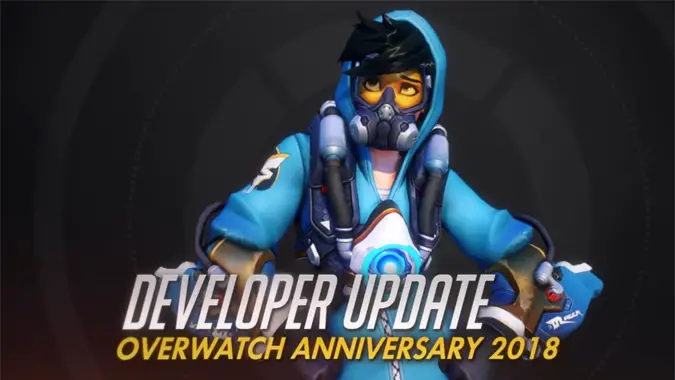 Overwatch is pulling out all the stops for its second Anniversary event, including the introduction of a new game mode. In the latest Developer Update, Jeff Kaplan covers all the details of the event, including the new free-for-all Deathmatch mode. But we're not just getting a new mode, we're also getting a brand-new map. The map, Petra, is a perfect haven for free-for-all Deathmatch play. It features sections that favor different types of play — some areas are suited for long-range snipers, while others are more suited for close-quarters combat.
In conjunction with the new map and mode, Overwatch is introducing a new free-for-all Competitive Deathmatch Season. The mini-Season will take place on two maps — the new Petra map and the Château Guillard map. The free-for-all Deathmatch competition is a chance for players to show off their individual skills.
The anniversary doesn't include a new event…not exactly. Instead, it's going to roll out every previous event brawl, from Lucioball to Junkenstien to Retribution. The events will cycle every day — and if you're missing event skins and loot, you're in luck. You'll be able to unlock all seasonal items from every seasonal event during the Anniversary shenanigans.
We're also getting a brand-new Anniversary Loot Box, and eight new legendary skins are on the way. The Anniversary Loot Boxes are guaranteed to contained at least one Anniversary item. They can also contain any item from any previous seasonal event as well.
Fight to the death
Some players might find the idea of Deathmatch in Overwatch a little odd. After all, a free-for-all mode almost seems to fly in the face of what the game is all about. Overwatch has always focused pretty heavily on the concept of team-based play. It's about working together to achieve a common goal. Having players throw all that out the window feels a little strange, even if it's just part of an Anniversary event.
At the same time, Deathmatch-style games have always been popular, and for good reason. They're ridiculously fun, and they highlight individual player skill. No objectives, no distractions, just you and how well (or poorly) you play any given hero. It's little wonder the mode is being added to Overwatch. Although the free-for-all Competitive Deathmatch Season is being touted as a "mini-Season," we'll have to see if more of that style of gameplay pops up in the future.
Check out the Developer Update for more information on the new mode, new Competitive Season, and more. And get ready, because Overwatch's second Anniversary event hits the servers May 22, with a conveniently timed free weekend lined up for new players on May 25-28.