Overwatch League aiming to add 4 to 6 teams at $30M to $60M each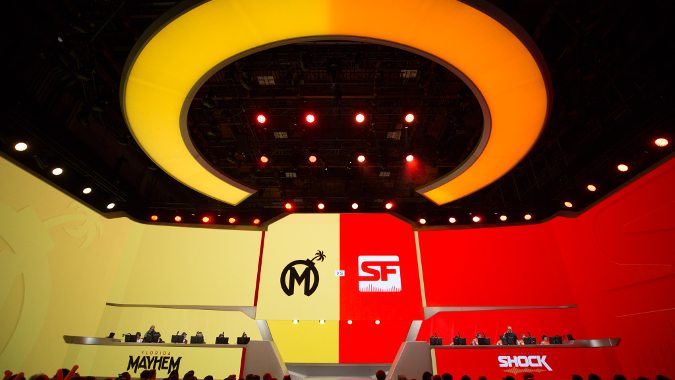 Back in February, Blizzard Entertainment stated they were already looking for expansion teams for the Overwatch League. At the time, ESPN speculated expansion slots could sell for as much as $60 million. As negotiations continue behind closed doors, ESPN is holding to its initial assessment.
Citing unnamed sources, ESPN says expansion teams are being priced anywhere from $30 million to $60 million based on a number of factors, such as the size of the market and the concentration of Overwatch players within it. In other words, representing a highly populated area will cost more. That number could jump higher still if that area is dense with people who actually play Overwatch. Prices could also be inflated in the event of a bidding war. If multiple organizations wanted to purchase representation of Chicago, for example, then the price is as much as an organization is willing to pay. According to ESPN, these prices aren't exactly unreasonable:
The increase is in line with a number of factors, including a significant spike in quoted evaluations of esports organizations, particularly those that have franchise slots in both the Overwatch League and the North American League of Legends Championship Series. Last summer, top North American esports organizations, such as Cloud9 and Immortals, were valued between $100 million and $140 million, and some organizations are now valued at around $160 million to $200 million, according to sources.
We have no official statements, either from Blizzard Entertainment, the Overwatch League, or interested parties. But signs point to there being more interest than ever in purchasing expansion slots. At the League's inception, potential investors balked at the price tag of $20 million for a team in a league (and product) that didn't even exist yet. But the Overwatch League has since become a proven success. The League has secured upwards of $150 million in sponsorships and broadcasts rights over the course of the last year, not to mention its merchandising or other revenue streams.
$20 million seemed steep at the time, but if the Overwatch League holds course, it'll be a bargain in hindsight. The League is hoping to add an additional 4-6 teams for the League's next season. They'd like to expand in both North America and abroad. Earlier reports suggested the Overwatch League was primarily looking to expand in Europe and Asia. However, it was facing stumbling blocks in doing so. North American investors have proven more willing to take a gamble, while European and Asian investors seek something more secure. Even the London Spitfire, the only European Overwatch League team thus far, is backed by American money via Cloud9. In fact, the Shanghai Dragons are the only truly international team in the Overwatch League. The Dragons are owned by China's NetEase, Blizzard's licensing partner in the region.
If international investors were turned away by a $20 million asking price, a price north of $30 million isn't going to be any more enticing. One year of success does not guarantee long-term security. So if analysts' predictions hold true, the League's future additions very well could be entirely American — or at least American-owned.