Brawl in style with new and old skins in Overwatch's anniversary event
Click here for more photos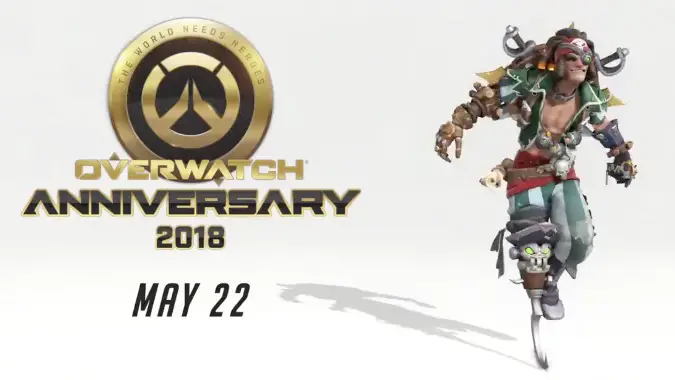 Are you a fan of Overwatch? Or of Marisha Ray's elbows? Then you may be aware that Overwatch has a birthday coming soon — soon, as in today, Tuesday, May 22 — and we'll all be celebrating with a big anniversary event.
But if you have forgotten Overwatch's birthday, the team (and Marisha Ray's elbows) made a video to remind you.
Aw, those crazy kids.
With over 40 million Overwatch players out there, the game has a lot to celebrate. So what's actually going down for this anniversary event? Well, for starters, we're getting back every brawl event, plus a new Deathmatch map in the ruins of  Petra.
I know some players are a little upset that we're not getting a new event, but with Retribution being so recent, I'm not surprised Blizzard opted to go with rotating in all the previous events instead. I mean, yes, they could have decided to hold it for the anniversary instead of releasing it last month, but I feel like this way players got to play it then and will get to play it again, along with Uprising and Junkenstein's Revenge and a bunch of other cool events. Win/win for everyone as far as I can tell.
Then there are cosmetic rewards, including new anniversary items and the return of any skin that's ever had a chance to be picked up in any Seasonal event that's ever existed, all packed into anniversary lootboxes. There are eight new legendary skins which are being teased like mad on the Overwatch Twitter account, and they're pretty impressive. Just look at them:
Then there are the leaked skins, which include a Sherlock Holmes-style McCree, a very dapper Doomfist, pirate Junkrat and a lot more.
So what are you going to do for the anniversary? Do you have a new skin you've got your eye on, or are you looking for one of the old ones you missed out on the first time? Looking forward to the return of Lucioball? Excited about McCree in a Sherlock Holmes outfit? It's all possible as of right now.
Check out the full patch notes for all the details, as well as small updates to Ana (buffs) and Brigitte (nerfs).