WoW
May 23, 2018 10:20 am CT
You can still unlock the Keystone Master Artifact appearance in Battle for Azeroth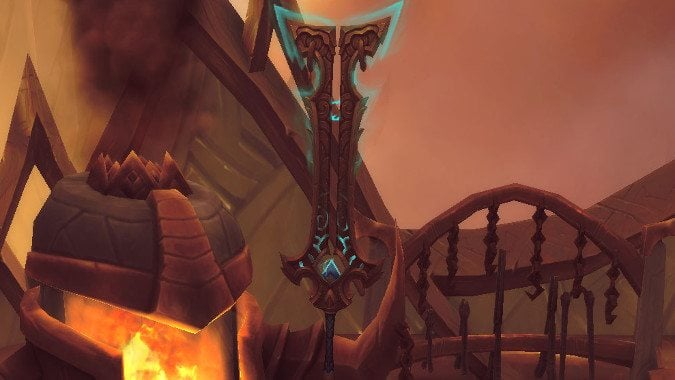 A lot of players are concerned about what Artifact appearances they'll be able to complete in Battle for Azeroth. You see folks trying to get the two appearances Blizzard has said won't be obtainable in the expansion: finishing the Mage Tower challenge and getting their Mythic+ group up to 15 for Keystone Master. But there's good news for one of those groups, because Blizzard has decided the Keystone Master reward will stick around, so you'll be able to earn the appearance in the upcoming expansion.
As testing continues in the Battle for Azeroth Beta, and we specifically consider the transition from Legion to BFA, we've decided to make the existing 
Keystone Master 
achievement permanent. There will not be a new achievement for completing a Mythic 15 or higher dungeon in the new expansion.
The artifact appearance associated with Keystone Master will still be available in Battle For Azeroth. Players can earn the achievement in Legion through August 13, or players can complete a Mythic 15 BFA dungeon at level 120, once Mythic Keystone difficulty opens a few weeks after the launch of Battle For Azeroth.
This means that the only artifact appearance that will become unobtainable with Battle For Azeroth is the Mage Tower base appearance.
If you're still working on completing a Mythic+ 15, and you think you can get it done before the, then by all means do that. It's the simplest option. But if for whatever reason you can't, then once Battle for Azeroth drops, just wait a few weeks for Mythic Keystone difficulty to re-open and start running level 120 Battle for Azeroth Mythics instead. It'll take some time and some doing, but at least now we know that it won't fade out of existence with the upcoming expansion.
The post from Blizzard points out that the Mage Tower appearance will still be ending with the new expansion, so if you haven't gotten that one done, keep working. It's going away, but we still don't know exactly when — it could go away with the pre-patch, which we don't have a date for yet. I personally agree with several people I've already seen say that they should just keep the Mage Tower up indefinitely to let people take a run at that appearance if that's something they want to do. I mean, it's gone forever in two months, let people do it whenever they want before that time, right?
Appearance collectors, you now know for sure that you can get Keystone Master in Battle for Azeroth. Have fun getting that last artifact skin.