What's keeping you busy in WoW?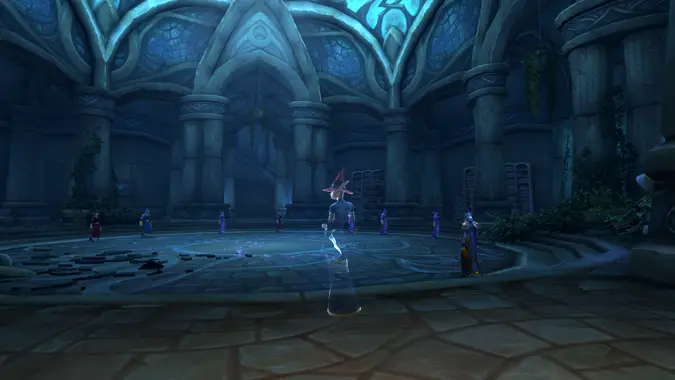 I'm a headmistress now — who knew all you had to do for a promotion was beat someone up? In the waning days of Legion, I've found myself at a bit of a loss for things to do on my main. I don't really have the time or inclination for raiding at this point, and my gear isn't exactly what I'd call terrible anyway. So in between leveling Allied Races and digging through Class Hall stories for classes I don't play, I've been picking away at the little things I missed out on. Titles I didn't snag, hidden achievements, mounts and pets — it's a fairly substantial list, and it's all over the map.
This is pretty much how I keep busy when an expansion is almost over. I don't always manage to get everything, but I make a dent in the list. I've had the Archaelogy reward key to get the Headmistress title hanging around in my bags since before Nighthold. I just didn't get around to completing it until recently. Now that that's done, I can turn my attention elsewhere — like maybe hunting down that Sun Darter Hatchling pet. Or finally getting the Artifact pole for Fishing. Hey, it may not be the litany of raid achievements out there, but it's the little things, right?
I'm kind of curious though — what are you guys doing to keep busy in WoW? Have you been sticking to Allied Races? Knocking out raid achievements? Are you grinding out Paragon rep for mounts? Are there any titles you're missing, or Battle Pets you have yet to collect? Is there a pretty piece gear you're farming for transmog? Or are you working on stockpiling five million gold for a Brutosaur next expansion? Let's hear it — who knows, you might give me a few more things to add to my list, too!