Soldier 76 is NOT going to be in Fallout 76, you'll just need to pretend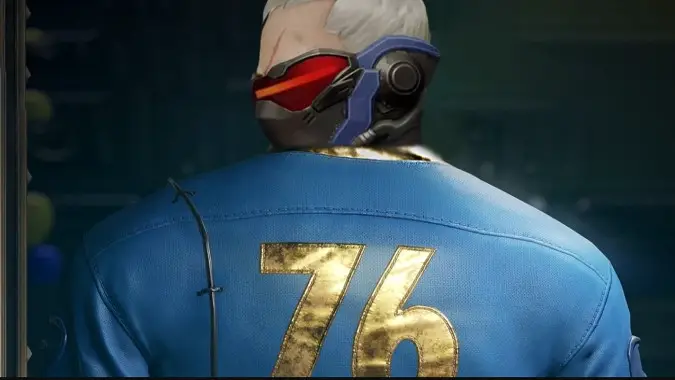 Look, I'd love to tell you that Fallout 76 was an Overwatch crossover where Soldier 76 shows up in a Vault and saves the Wasteland, but it's not happening. We're not going to see Omnics fighting Super Mutants, or find out that the Institute were behind the Omnic crisis, and we're certainly not going to see Talon agents battling Brotherhood of Steel forces.
God, the fanfic writes itself.
We're all very excited, but let's be clear — this recent forum post was a joke. Ornyx is not telling you that there's a WoW 2 on the horizon and there's certainly going to be significant differences between Fallout 76 and either a standard Fallout RPG or any Blizzard property. I mean, would it be cool if there was a cross-promotion between Bethesda and Blizzard? One with unique skins for Overwatch's favorite old grizzled soldier?
Well, the Overwatch community certainly seems to think so.
h-hey @Blizzard_Ent …….. you still owe me a cool #Soldier76 skin ………. #Fallout76 #Overwatch #OverwatchFanart pic.twitter.com/uLBtpItgLX

— Jenn ✨🪐 wear your mask! 🪐✨ (@CaptainHanyuu) May 30, 2018
As an obsessive player of Fallout 4 and a guy who watches a lot of Overwatch play, the best thing for me is that I recognize that weapon as a combination of a Gauss Rifle and Plasma Rifle. I'd love to see this as a skin in Overwatch and a Creation Club item for Fallout 4.
Soldier 76 after @bethesda announcement this morning#fanart #Crossover #Fallout76 #Overwatch pic.twitter.com/Ht9ZgFmpOw

— Coco Chu (@CocoChu_Art) May 30, 2018
Look, I think we all need to take a breather here. There's a lot of this stuff out there, and just because we could easily assume that Overwatch is set in the 2070's and that Vault-Tec might exist in the setting and that the Vaults might have originally been created as part of a last ditch 'Save Humanity' plan during the Omnic Crisis and that perhaps Rob-Co and General Atomics are involved in the Omnica Corporation and oh God it won't stop. Seriously I'm imagining that Vault 76 is actually full of Overwatch people and I seriously need to run away from this before I write a 200,000 word fanfic.
But yeah, it's all in good, utterly terrifyingly plausible fun. No! I'm not writing that fanfic! No Sombra hacking a legion of robobrains, no Zarya punching Strong in the face, none of it!