Pre-order Sombra Nendoroid's smirk for ultimate cuteness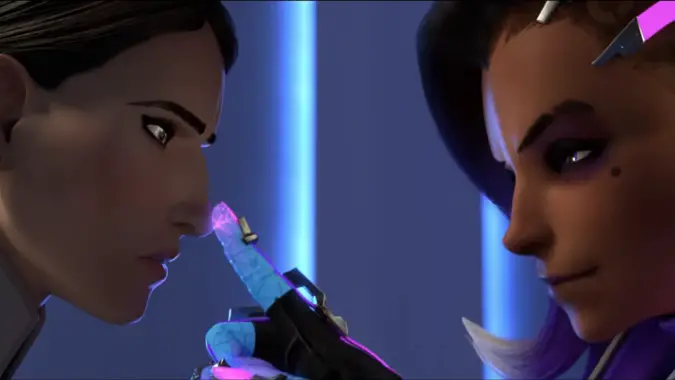 We've talked about Nendoroid figures for Overwatch before, because they're hecking cute and why wouldn't we? But I have to say that I think this Sombra one does the best job of being the Overwatch character in Nendoroid form — the little smirk she has going on really just sells me on it. From her introduction Sombra's been a distinctive addition to the Overwatch lineup and it's good to see her represented in the merchandising side of things. You can pre-order the Nendoroid Sombra now, but it's not available yet — the site says by the first quarter of 2019, so be prepared for a bit of a wait.
Hack the planet with #Nendoroid Sombra.

Learn more about this new collectible + pre-order yours today:

🔇💜💀 https://t.co/uSrSZ8rSNh pic.twitter.com/kptoSlbjYQ

— Overwatch (@PlayOverwatch) May 30, 2018
Sombra as a character is much more morally complex than some others — you're never sure what she's up to or what her ultimate goals are. Looking over at the Good Smile site's Overwatch section, there's the usual Tracers and Widowmakers and Reapers and so on, but this is the first time we've gotten a Sombra figure from them, and I think that's a shame. A Sombra figma statue would just be cool.
Yeah, I know Sombra has a Funko Pop, I still want there to be more Sombra stuff. This is part of the problem of a game with such a big, diverse roster. Maybe we'll get some awesome Sombra stuff when the Overwatch Lego sets come out. One of the limitations of gameplay is that we never get to see Sombra hack D.Va's mech and lock her inside before setting it to explode (which, honestly, is a bit more murdery than Sombra usually gets) but with Lego sets you could get to re-enact that kind of thing.
Look, I just think Sombra is pretty cool, all right? Let's get more of her. She has a unique color scheme and aesthetic, get on that, Blizz.