WoW
Jun 4, 2018 10:00 am CT
Fancy Francois doesn't give a cluck about you – unless you've got 1 million gold, that is
Click here for more photos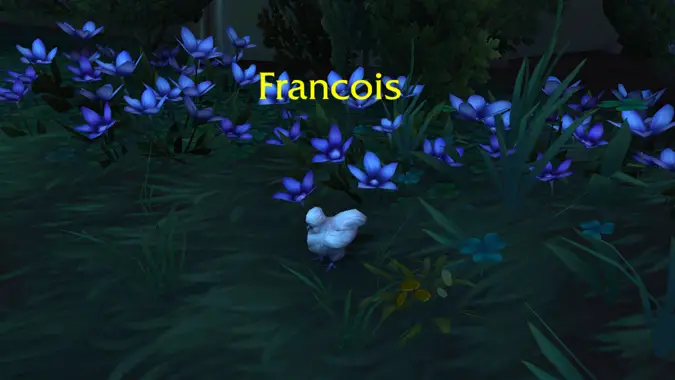 Don't quite have that five million gold for your own personal mobile Auction House? Have we got a Battle Pet for you, courtesy of the delightful dataminers over at Wowhead. This beautiful ball of feathery fluff is quite possibly the fanciest chicken you'll encounter in your travels around Kul Tiras. His name is Francois. He lives in a fine estate, surrounded by luxury. And he's totally not interested in you.
Well, unless you've got one million gold kicking around.
Francois the chicken hangs out at Norwington Estate, spending his days dreamily pecking at grass and seed. Unlike the other chickens roaming around Norwington, Francois comes with his very own dialogue interaction. Don't bother clucking at Francois — he doesn't care at all. He has no interest in special chicken feed. And if you — like every alt I have — are lacking in funds, he'll simply peck at your feet in the snootiest fashion. If, however, you happen to have a million gold in your pockets, you'll get an option to jingle your purse.
What do you know — you're suddenly worth Francois' time. Speak to the bird again and you'll be rewarded with a Faberge Egg, which will give you your own beautiful chicken to flaunt at the masses. Keep in mind that you aren't required to hand over that one million gold — you simply have to have it on your person. Francois doesn't handle the funds, he just wants someone who is well-equipped to take care of every luxury he could possibly imagine.
In return, you get the honor and privilege of adding Francois to your stable of Battle Pets. Francois is using the new chicken model in Battle for Azeroth, a charming Silkie model that looks downright cuddly. I don't know if I'd recommend cuddling Francois, however. He might find it entirely undignified. But hey, it turns out he's not adverse to combat at all. Francois has a pretty standard set of bird moves, with the exception of Make it Rain — an ability formerly reserved for Blingtron's associates.
That'll do, bird. That'll do.