What do you like about the other faction?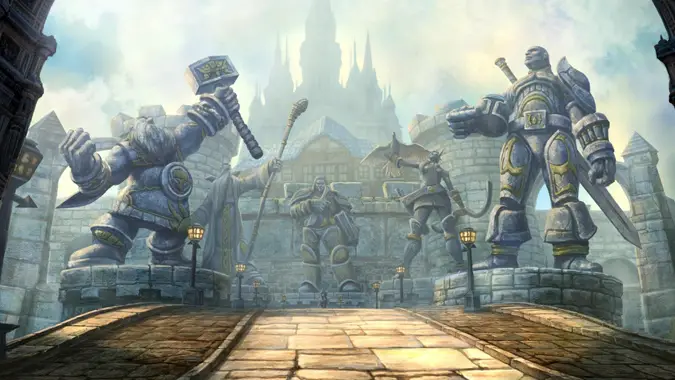 It's not really a secret that I play both factions — I have alts on both sides of the faction fence, always have. My "main" is a Horde character, but I'm not solely dedicated to that character. I mean, I write about lore because I love it. That love isn't really directed at one faction over the other. So I play both sides, and experience the stories from both. It gives a much more well-rounded picture of where the story is going.
I'm not unique in that aspect, but there are plenty of people out there that play only one faction. Maybe it's because that's where all their friends happen to be, or maybe it's because they like the assorted races available. Or maybe it's because they like the story of that faction over the other. Some people just pick a faction arbitrarily, others take their faction choice very, very seriously.
That faction identity is one of the focuses of Battle for Azeroth. The Alliance and Horde are going to be fighting each other — for the umpteenth time — and we as players are going to be pitted against each other as well. As someone that plays both factions, I find the premise a little wearying at best. I mean, both sides have their good and bad points. But both sides are also compelling to play, in their own unique ways. Do we really need to be fighting each other again? But that's a question for another time, probably.
However, while perusing Twitter over the weekend, I came across a tweet from Christie Golden in which she asked Horde players to name an Alliance character they respected, and vice-versa. It's a pretty good tweet, and it got a lot of response, and I like the idea behind it a lot — so I'm going to pose it to all of you. But instead of just a character, I'm going to cast the net a little wider, because why not?
I'd like all of you guys to think really hard not about the faction you play, but about the other side. Maybe there's a lot of stuff you don't like about that other side — but I don't really want to hear about that. What I'd like to hear about are the things you like. Maybe a quest, maybe a location, maybe a character with a story you really enjoy. Just take a second to step back from all the back and forth, and think about a good thing.
For me, I've always enjoyed Stormwind on Alliance side. It doesn't matter how many times I step through those main gates, it's always quietly thrilling when I do. As for the Horde, one of my favorite quests since Cataclysm is Welcome to the Machine. I love stepping into the role of a quest-giver, if only for a few minutes, and it still makes me laugh.
What about you guys? What's one thing you enjoy from the opposing faction? Or hey, cast the net wider still — what's one thing you enjoy from Alliance, and one thing from Horde?