WoW
Jun 7, 2018 3:00 pm CT
Tabards are pretty wonky in the BfA beta — and everywhere else, for that matter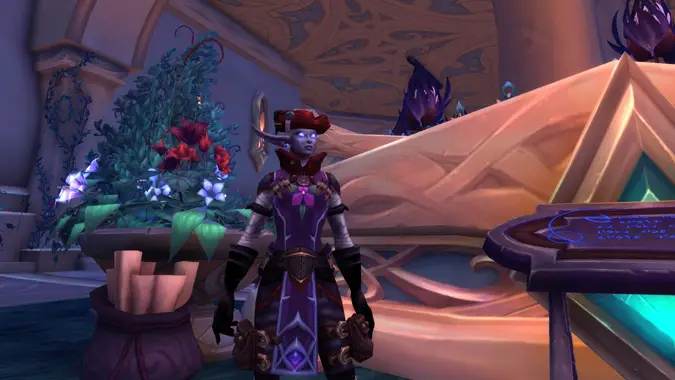 There's an odd phenomenon happening on the Battle for Azeroth beta currently that may hinder those with a penchant for in-game fashion. Currently, while wearing a tabard with sets that have extra bling — like the Rogue set shown in the image above — you can see all the extras displayed. The signature high collar and lapel daggers are clearly visible, despite the tabard. But according to Redditor pl3bbles, the same can't be said in Battle for Azeroth. In their post, they included screenshots taken on both live and beta — and beta looks a lot different.
Both the high collar and the lapel daggers are missing on beta, which kind of deflates the overall look of the set in question. Pl3bbles has reported the issue several times over, but it has yet to be fixed, which makes one wonder if this is in fact a bug at all. Look, let's just set that one to rest right now — I'm pretty sure it's just a bug, guys. Blizzard is pretty meticulous about appearances. They wouldn't design an armor set and deliberately make the star features of the armor just disappear when you slap a tabard on.
But it does once again shine a spotlight on the problematic issue of the tabard. We've had tabards since the game originally launched, and they've always looked…not quite perfect. They cut off awkwardly at the belt on characters that wear robes. If you're wearing pants, you better have a belt, because there's a strange gap in the middle of the tabard to accommodate for one. Frankly, I think the collar and dagger lapels look downright weird when you're wearing a tabard on live. Yes, it's nice that those features still show through, because they're the star features of that armor set. But when you think about it, it…doesn't look natural. Tabards have never really looked natural.
These cool new armor features — shoulders with moving parts, belts with loincloth pieces attached, lapels and big collars — are great, don't get me wrong. They're a sign that armor is an ever-evolving thing. The artists over at Blizzard have consistently been able to push the boundaries of what was possible and give us some really cool looking new stuff over the past several years. I absolutely love all the little pouches and buckles on the pants in the set pictured above. But it's strange to me that we've come so far with armor design, and we're still dealing with the issues of that pesky piece of flapping fabric.
It's an easy enough problem to solve, for me — I don't wear tabards. Yes, it's a pity, because some of the designs are really pretty, but they never look quite "right" to me. If I need to wear a tabard for reputation or some other purpose, I'll just transmog it so it doesn't show up. But that's me. I'm sure there are plenty of people out there that like the look of the tabard, or wish that tabards behaved differently. It makes me curious, though — with all the armor developments out there, will the humble tabard ever get a redesign? Is there a way to make it behave appropriately, or is it going to be that minor thorn in the sides of would-be fashionistas forever?