WoW
Jun 14, 2018 3:12 pm CT
War Mode and other Battle for Azeroth changes will launch with patch 8.0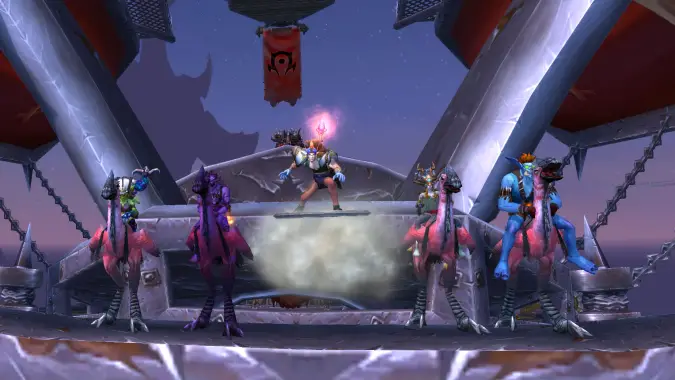 You won't have to wait for the expansion to play in War Mode. In today's Q&A, Ion Hazzikostas said that as soon as patch 8.0 launches, we'll see all of the changes Battle for Azeroth is bringing, including the new War Mode system for PVP and the removal of PVP realms.While there's no date yet for exactly when patch 8.0 will be dropping, it's currently being tested on the PTR and Battle for Azeroth itself is going to drop within two months. Hazzikostas himself pointed out that you can pretty much guess when it will be — and based on previous expansions it's likely to be in mid-July, in my opinion.
Missing from the pre-patch is new content and abilities linked to levels 111 to 120. There's no Azerite gear and no Heart of Azeroth, because those are linked to Battle for Azeroth content — but new talents, the new itemization, the stat squish, and the stripping of Artifact traits and abilities will all be part of the patch. You'll still have your Artifact and the relics in it will still increase its item level, but the traits will be gone.
Players have been asking for a while now what, exactly, 8.0 would entail since Battle for Azeroth is one of the biggest series of changes of any expansion World of Warcraft has ever seen. In addition to the loss of Artifacts we're getting a simply massive item squish that will take our current item levels from the 900's down to the 200's at max level, and biggest of all, War Mode will utterly overhaul PVP and the way servers work.
All servers will be either Normal or Roleplaying servers. You'll be able to choose to be in PVP or not by going to Stormwind or Orgrimmar (and only in those two places, so once you're in War Mode, you're in it until you return to your capital city) and it will include three new talents and an experience boost of 15% for when you're in open world content. The goal, according to Hazzikostas, is to make War Mode attractive to players without making it feel compulsory — you'll get an XP buff and some talents to help survival that will work when out questing, but you shouldn't need them to level.
It's an interesting and extensive change. All in all, 8.0 will be the most significant change we've seen in moving between expansions. Period. No expansion has ever changed the game so much in so many different ways as Battle for Azeroth will, and we're likely to see it all in around a month.