Secrets of the Storm comic sets up the lore behind the Alterac Pass map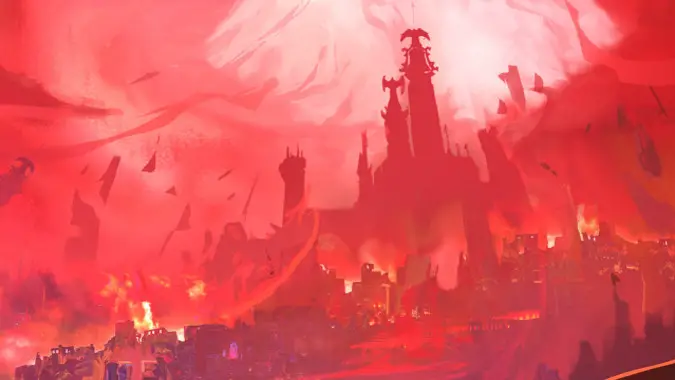 The interesting experiment in Heroes of the Storm to play around with the lore of the game (which is itself a kind of meta-narrative since the heroes come from the various Blizzard games, which are otherwise narratively disconnected, to the point where Overwatch characters actually go to a theme park that is based on all of Blizzard's other games) advances with Secrets of the Storm, a new comic by writer Valerie Watrous, Suqling and Peter Lee on art, and cover by Frances Lane.
The story itself is similar to the previous comic, Rise of the Raven Lord, except that it has Deckard Cain in it so it's automatically better. The story is fairly simple — Deckard is out exploring Dragon Shire when the forces of the Raven Lord accuse him of hiding a girl from them. Said girl, Orphea, turns out to be a powerful magician of some sort (at least) and the two of them travel to the court of Raena, the Lady of Thorns and a powerful Realm Lord. There, they warn her of the Raven Lord's designs on her realm and the rest of the Nexus.
She's initially reluctant to get involved due to her own problems with a curse that's turned her husband to stone and is now slowly afflicting her. But she ends up going along with Deckard just like everyone else eventually does. Seriously, he talked me into going to Hell itself to smash some crystals once.
If you're familiar with the map, you know about the Dragon Knight you can summon there. A sharp-eyed Redditor asked about that and Cloaken gave an official Blizzard response — yes, the Dragon Knight is Raena's husband, whose curse transformed him into the stone monstrosity. There's a fun little discussion of the lore that's already been revealed about Dragon Shire and what it might mean for Raena's husband — was he always a dragon? Did the curse turn him to stone, or is there more to it? Cloaken doesn't solve the mystery but that's fine, that's what the eventual Heroes of the Storm Know Your Lore's will be for.
For myself, I found the comic a touch basic, but it's less a story and more a setup for Alterac Pass and the conflict between the Raven Lord and the Lady of Thorns. It did that job well. I'm looking forward to seeing how Blizzard continues advancing the Heroes of the Storm narrative, and if we'll get anything like an in-game map that deals with this emerging lore.