WoW
Jun 29, 2018 3:00 pm CT
Yes, Hunters, you may have more stable slots to store your magical unicorns in BfA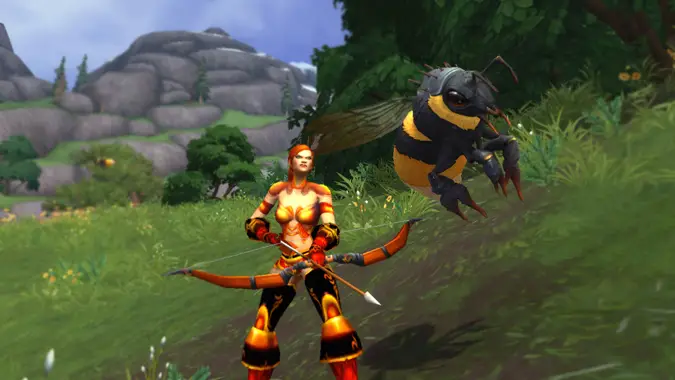 Hunters are getting a heck of a lot in the way of new pets in Battle for Azeroth, including four new pet families and a host of new animals to tame. But where is an enterprising Hunter going to store all those pets? Turns out you won't need to worry about that so much — Hunters will also be getting 10 more stable slots in the new expansion as well, according to popular Hunter pet site Petopia. This brings the total to 65, which isn't quite enough to tame one of everything on Azeroth, but hey, it's close enough.
As for the four new pet families, they've been changed a little bit since our last update back in May. Lizard, Pterrordax, and Toad are exactly how they sound, but the "Trilobite" family that was datamined has been renamed to Krolusk. Both Krolusk and Pterrordax are classified as Exotic categories, but anyone can go tame a Lizard or a Toad. In addition, if you'd like to tame one of those charming new bee models, you're in luck — they're classified as part of the Wasp family.
In fact, a lot of the usual list of tameable pets have gotten new models in the next expansion. There are new versions of Serpents, Raptors, Birds of Prey, and even the Carrion Bird family gets a new model in the form of a striking, colorful parrot. Wowhead has a wonderful guide to everything new with Hunter pets in Battle for Azeroth, including all those model updates — it's worth a look for aspiring Hunters that want to know what to expect.
Personally, while I do play a Hunter — I have a couple of Hunter alts — I'm not especially good at it. But I do like collecting pets, just as much as I like squirreling away Battle Pets, so I'm happy to see the new stable slots. The last thing I really want to do as a Hunter is abandon any of my beloved darlings, and now I won't have to…although I'll still need to be careful about which pets I pick up, because 65 stable slots is hardly unlimited space. Still, it's more than enough room to add several more favorites, including those majestic unicorns, so I'll happily take it.